Keep on Riding – Fall GoByBike Weeks are STILL on! Ride your bike between October 3-16, and win!
Wondering what it's all about?⁠
Together with communities all over B.C. GoByBike BC Society wants to encourage more people to #gobybike with events like these. Riding to and from work, getting groceries, dropping the kids off at school, recreational rides hitting the trails or exploring the region – or just getting around on two wheels instead of using a motorized vehicle is better for the environment and your physical and mental health. ⁠#AnyRideCounts
⁠
👉 Registration is FREE, participation is FUN, and you can WIN some great prizes. ⁠Ride as part of a team, because riding with friends is even more fun!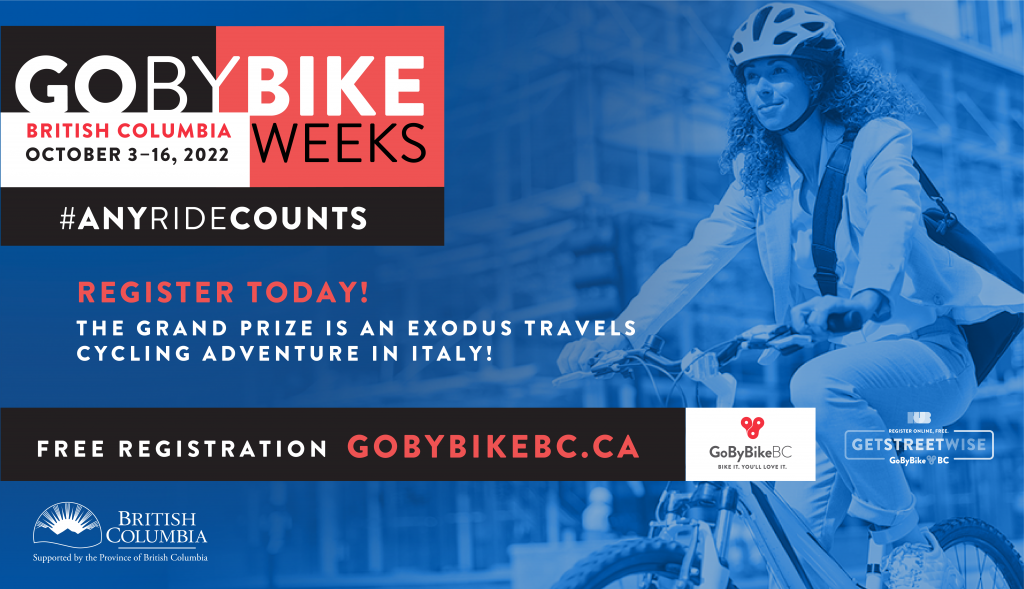 HOW IT WORKS:
Ride your bike between October 3-16, 2022, as much as possible instead of using a motorized vehicle.
Log your rides online – or, if you use STRAVA, connect your STRAVA account to your LOGMYRIDE account and your rides will be logged automatically.
Any and every ride logged will enter you into the draw for one of many great prizes.
PROVINCIAL PRIZES
Every ride logged enters you into the draw for some GREAT PRIZES like accessories for your bicycle from AXIOM CYCLING GEAR, LET'S GO BIKING E-Books, GoByBike BC Seat covers or front lights for your bicycle, a $25 e-gift card from OUTWAY, VISA gift cards, and more.
The GRAND PRIZE is a Self-Guided Cycling Adventure for 2 in Italy sponsored by EXODUS TRAVELS. Click HERE for more information and to enter into the draw – it needs a couple more clicks.
Also, keep your eyes peeled on our INSTAGRAM and FACEBOOK channels for special contests for a Unior Bike Tools HOME TOOL KIT sponsored by NRG or a "High-Viz Package" consisting of gloves, shoe covers and a set of lights donated by HLC.
GET STREETWISE, LEARN ABOUT FALL & WINTER RIDING
The first 100 people to register for Fall GoByBike Weeks, completing StreetWise Online and logging ONE ride will be sent an email with further instructions how to redeem their prize.
HOW IT WORKS >>
As part of Fall GoByBike Weeks CAPITAL BIKE and HUB CYCLING hosted FREE cycling webinars. They are available ON DEMAND HERE >>
QUESTIONS?
If you are looking for templates or posters visit our RESOURCES section. You can find pointers how to create a TEAM or invite someone to your team HERE. We also have MATERIALS FOR SCHOOLS filled with tips and tricks how to engage student and provide a safe environment available and you might find useful info in our FAQ section.