RIDING WITH FRIENDS IS MORE FUN!
Create a Team of:
Co-workers – even if you are working from home, you can still get a workplace team together. Teams can see how many calories they burn and how much CO2 they save compared to other workplace teams …which team can bike more?
Family members – invite your aunts and uncles, nieces and nephews, grandparents, and more to join your team. Encourage your entire family to get outside and get some exercise. You don't need to live in the same household to be on the same family team; however, please follow COVID guidelines and limit family bike rides to your household.
Friends – invite your friends to join your team, and help them discover how fun it is to GoByBike. You can have fun team competitions to see who is biking more often throughout the week, or who is taking the longest rides and getting the most exercise. Note: the new LogMyRide system can be connected to your Strava account so your rides can be logged through Strava to make it super easy to log your rides.
Neighbors – you've heard of "Streets of Lights," how about creating a neighborhood challenge to GoByBike!
Students, classes, grades in your school – even if you can't ride your bike to school right now, you can still join or create a school team. Biking is great way to: give students a break from staring at a screen, help students get active, and teach students about opportunities to make healthy and environmentally friendly living choices.
Note: teams are encouraged; but, please follow COVID guidelines and limit group rides to only those living in the same households.
How to Create a Team:
After you enter your personal information, choose to "Join or Create a Team"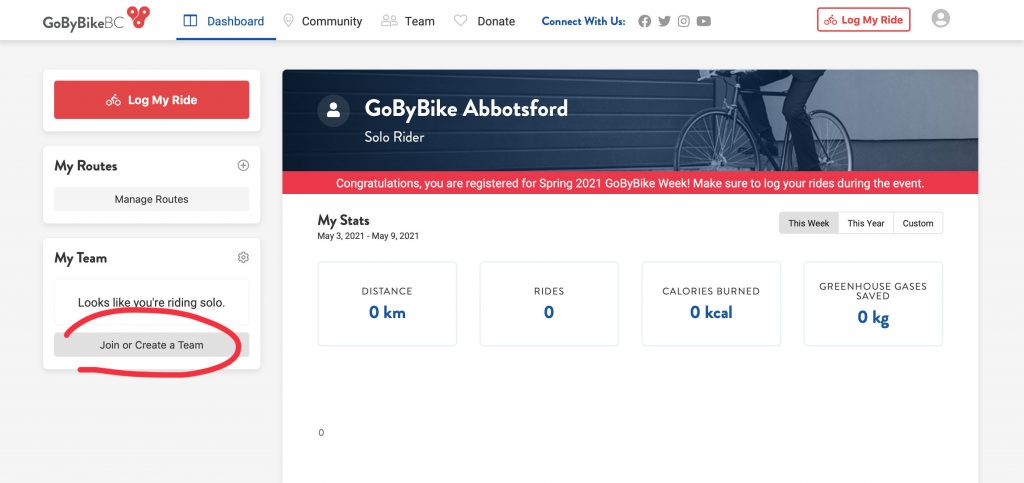 How to Invite Riders to Join your Team:
Click Team at the top
Copy the Invite Riders with URL on the left by emailing the URL to possible teammates to see if they want to join your team. Note: invitees must have an account, if they don't have an account, please tell them to register first (send them this link to register https://logmyride.gobybikebc.ca/register)
Send an Invite via Facebook (you have to allow pop-ups for your browser), or
Send an Invite via email straight from your dashboard.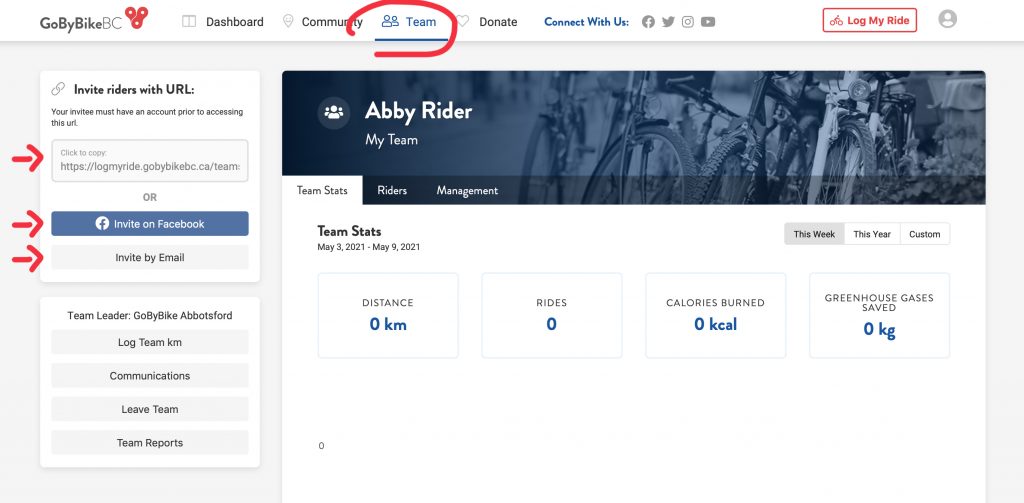 Note: people must create an account before they can join your team. Here's a sample email that you can send them (when you send them the URL) that invites them to create an account and join your team:
Hi!
I started a team to participate in GoByBike which runs September 27 – October 10, 2021. Would you like to Join My Team? Every time you ride your bike during September 27 – October 10, 2021 you can log your bike rides to be entered into a prize draw for 1 of many great prizes including a $50 Visa Gift Card, an Exodus Travels Cycling Trip for 2 (with flexible booking dates), and more…
It's EASY to Join My Team:
Register at: https://logmyride.gobybikebc.ca/register
Click here: [insert Invite Riders URL shown in screenshot above]
Riding a bike is a great way to get active/exercise, stay healthy, lower stress, improve mental health, enjoy the outdoors, and lower your greenhouse gas emissions. It has been harder to get your regular exercise in these days, but if you GoByBike then it's easy & FUN!
Many people shared stories about how bike riding has improved their lives, check-out these stories: https://gobybikebc.ca/your-stories/
Let's Get Active, Have Fun, GoByBike, & Enter to Win Prizes!
How to Add Riders to Your Team:
IMPORTANT: if you add riders to your team, you will be responsible for logging their bike rides (kilometers) for them. If riders have a valid email address, we encourage you to invite them to join your team so that they can choose to log their own bike rides (kilometers) OR you can log for them.
To Add Riders to Your Team:
Click "Team" at the top
Click "Riders" in the secondary menu
Scroll down to see where you can add "Non-User Riders" to your team. "Non-User Riders" means that there is no user account associated with the rider. Typically Non-User Riders are only added when they don't have a valid email address.