GoByBike BC is thrilled to partner with Pedego Electric Bikes this year! Pedego has compiled an amazing resource of Ebike Safety tips as well as Maintenance tips, which are listed below. Thank you Pedego Electric Bikes for a thorough compilation!
How to Safely Commute on an Electric Bike
Ebikes Features You Should Use for Safety
Evenings and Considering Visibility when Riding your Ebike
Battery Care for Safety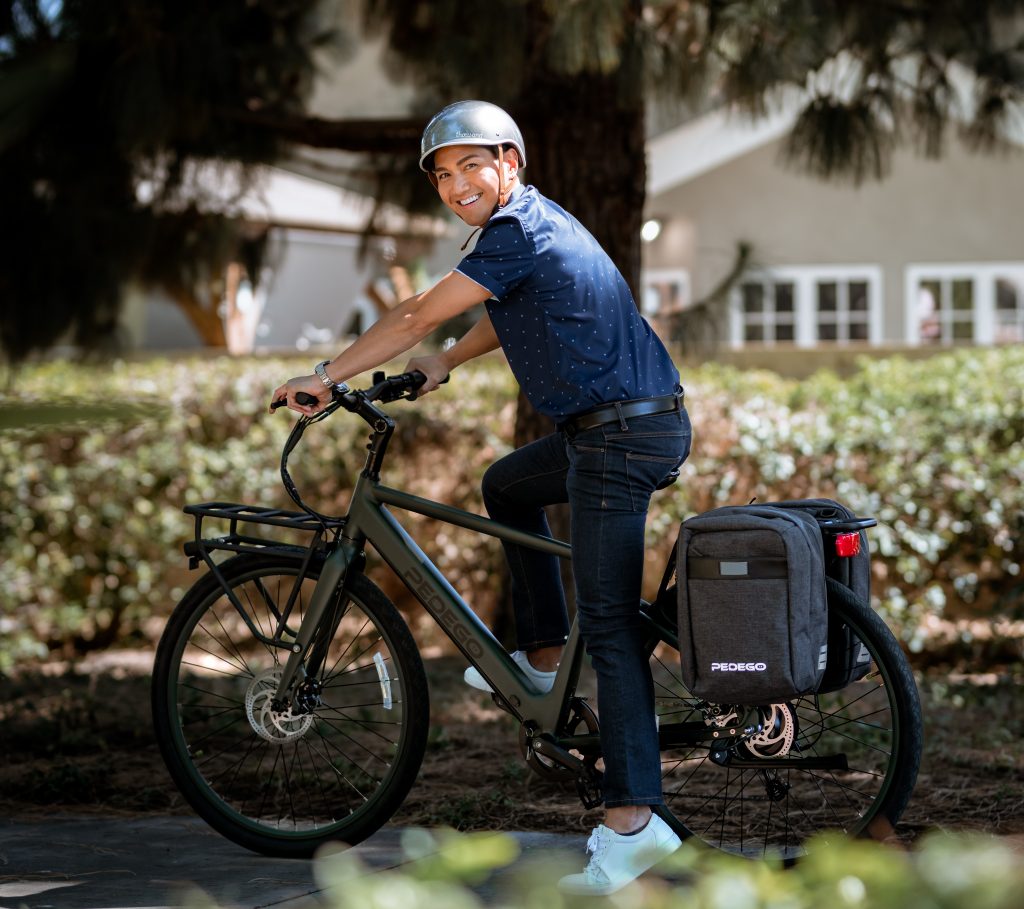 How to Safely Commute on an Electric Bike
More and more Canadians are turning to electric bikes as a great way to commute to work and school. That's because it doesn't require any expensive and polluting gasoline, it's easy to find parking and, above all, it's fun – a lot more fun than sitting in a traffic jam, at any rate.
Electric bikes make commuting more accessible. Because of the assistance at the pedals, bikes make the commute feel shorter and allow you to arrive at work with less exertion and still feeling fresh for your day.
But, as you join the ebike commuting revolution, there are some things that every electric bike rider should know about so they can remain safe on the road. Beyond learning the basics of cycling safe, ebikers should know the following:
If you are new to commuting by ebike, get out for a practice first. It's great when you can get a quick orientation from the dealer before you take your bike home. An ebike requires a little bit more learning than a traditional bike and that's not good to do in traffic.
Keeping your bike well maintained is always important but when your bike is equipped with a motor and throttle, it's critical for safety to keep your machine well-tuned. Schedule your spring tune up at your local bike shop in late winter to have this covered. Consider it when you switch out your winter tires. As well, do a quick but essential pre-ride check that covers the basics each time you ride.
Because electric bikes are relatively new on the commuting landscape, it's important to realize that some drivers won't appreciate how fast you can go. They simply see you as riding a bicycle and make assumptions based on the speed of a typical bicycle rider. However, as we all know, electric bikes can go much faster than regular bikes, especially up hills. So be a defensive rider and anticipate those drivers who may see you but who may pull out in front of you anyway because they're expecting you to be going a lot slower.
As we know with driving, speed increases the likelihood of mistakes. Speed also leads to more damage should an accident occur. Most ebikes are also heavier than a traditional bike. Allowing time to stop is that much more critical, especially adding in that you may be riding faster as well.
Be a defensive ebike rider and follow the most important cycling basics – wear a helmet, communicate/be seen/be aware and know the rules of the road.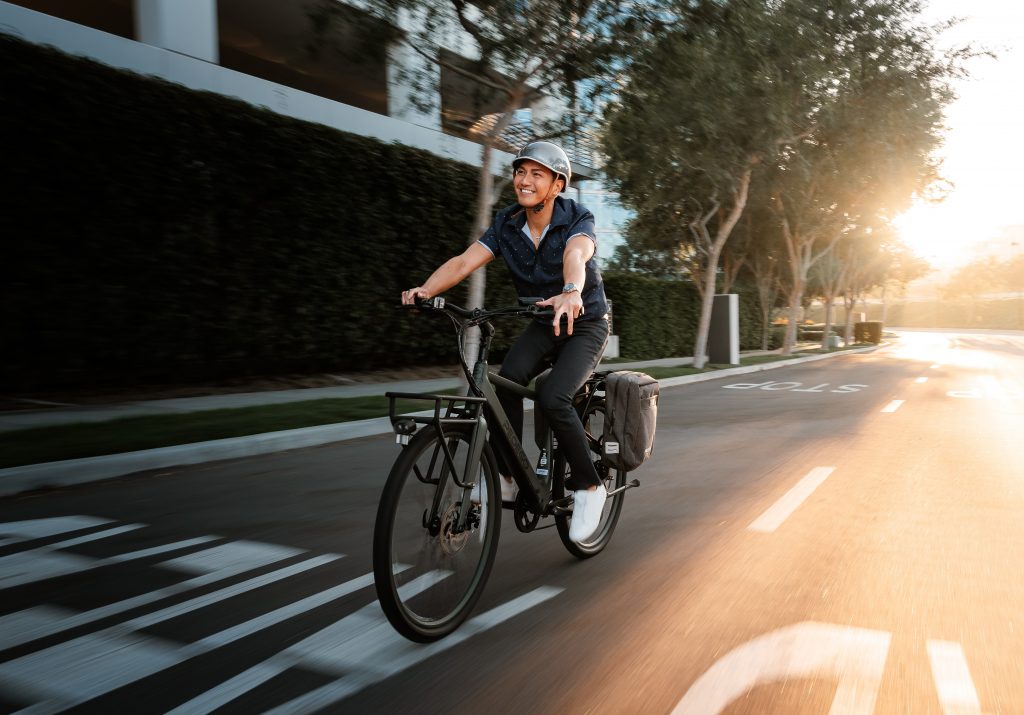 Ebikes Features You Should Use for Safety
Electric bikes come with features built into their systems that can be used to enhance rider safety on the road. Here are a couple of our favourites and how to use them:
Lights! – Because power is supplied to an electric bike, front and rear lights can be integrated. Most Pedego models have a huge rear light integrated with the battery – and it's also a braking light. Most Pedego models also allow the addition of turn signals so we can signal while keeping both hands on the handlebar for better stability even if the road is bumpy.
Throttle! – Some ebikes, like a Pedego, come with a throttle assist. When used to navigate traffic, throttles can make your riding safer. Traditional cyclists will coast through a stop sign because getting back up to speed is too much effort. A throttle allows for full stop followed by full speed. Another example of throttle use for safety is ensuring you are quickly through a busy intersection by bringing you up to full speed in good time.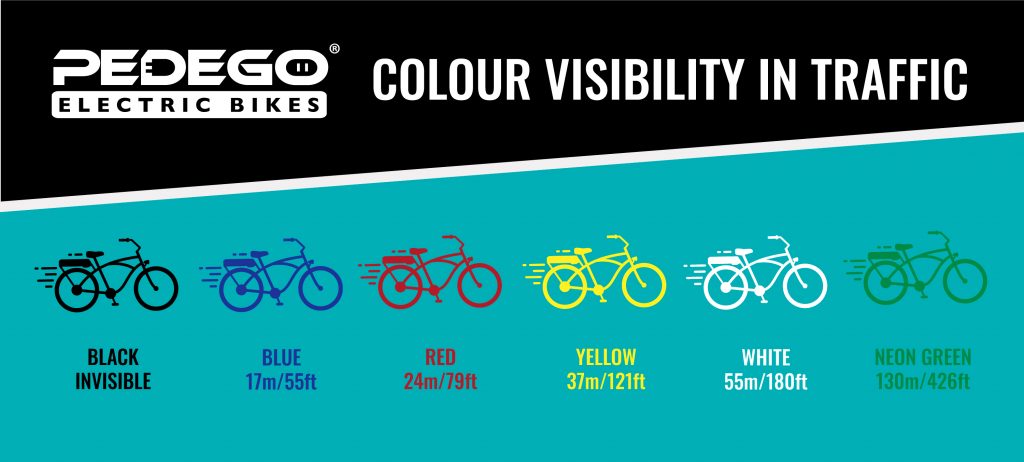 Evenings and Considering Visibility when Riding your Ebike
It's important to be well lit while you travel on your electric bike for your safety and the safety of others. We have some great tips and products to recommend as you come home after a late shift, beat the morning rush or keep up with your recreational evening riding late the into the fall season.
Being visible is all about good lighting – on your bike and on your person.
Pedego Torch Headlight and new Torch Taillight are rechargeable and run 2 to 9 hours for optimal visibility. The front and back LED lights are visible during the day and install without tools to make it easy for you to light up. The headlight has a huge output of 1000 Lumens.
Nutcase VIO MIPS LED helmet takes visibility to the next level with lighting incorporated right into your head gear. This helmet gives you 360˚ LED lighting with 200 lumen front lights and 65 lumen side and rear lights). The VIO has a 3-hour run time.
Lumos Ultra helmet is another great option with 360˚ of LED lighting. The front sports 30 White LEDs and 64 read LEDs in the rear. Be seen by motorists from all angles.
From head to toe, have you ever considered light-up pedals? The Geo City Grip pedals with LOOK Vision Lighting offers LED safety at your feet. LOOK Vision In Lights has four LED lights with 20 hours runtime with constant, flashing and daylight modes. They are 6 to 50 lumens depending on mode used. Get these and feel flashy for sure…
Consider your clothing when attempting to be visible. It makes a huge difference!
Check out our graphic at the start of our blog that shows the difference between wearing a black cycling suit and a green one. And, when you put bright colours on your moving parts, you draw even more attention to yourself. Consider yellow shoes, for example, and get a similar effect to the LED pedals listed above.
Reflective bands are a classic. These simple straps are easy to attach with Velcro, inexpensive (organizations often give these away!) and can go anywhere on your body and your bike.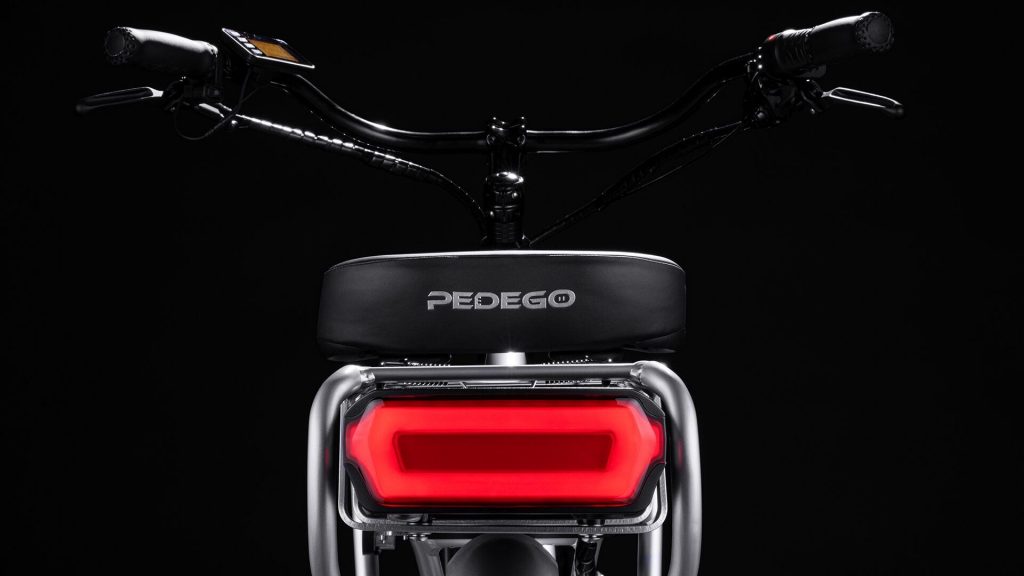 Battery Care for Safety
How to Take Proper Care of your Ebike Battery
So, you can feel safe and confident in your product, it's important to do your homework and shop smart in order to make a solid decision about your electric bike purchase. Incidents of ebike battery fires is evidence as to why this is important.
Even with the best cells and top certification, proper care and attention should always be taken with your battery because dangerous events can still possibly occur.
Charging
1. Only use the charger that was supplied to you at the time of your purchase. Never attempt to charge the battery with a different charger or power supply. (A suspected cause of NYC battery fires is use of incompatible chargers.)
2. Charge the battery on the bike or, if off the bike, ensure it's on a non-flammable surface in a clean, dry location away from flammable materials.
3. Do not charge the battery unattended (like when you aren't home) or overnight. Monitor the charge and unplug when fully charged.
4. Charge the battery in an area with a working smoke detector. (You should always have a working smoke detector in your home.)
5. Do not attempt to charge the battery when it's cold – less than 7 degrees Celsius.
6. If the battery is dropped, damaged, overheats or is immersed in water do not attempt to charge it. Store it in a safe place (preferably outdoors) and call your local ebike dealer for appropriate next steps.
Storage
1. For extended periods of non-use, store your battery in a clean, dry environment that has a temperature between 4 and 25 degrees Celsius. It's best stored between 30-40 per cent charge. Avoid storing 100% charge.
2. When transporting your ebike, take the battery off the bike. Simple but smart.
Care and Recycling
1. Do not attempt to have your ebike battery refurbished.
2. Do not open or otherwise tamper with your ebike battery. There is no reason to do so as there are no serviceable parts inside it.
3. When your battery reaches its end of life, it's important not to throw it away. Please return it to your local store for safe and proper recycling. Pedego Canada is a Call2Recycle participant.
4. Do not replace your battery with a pack from a third-party supplier.