For media requests and information about GoByBike BC Society and our Provincial program, please contact: web@gobybikebc.ca.
For requests about GoByBike Week in your community, please contact your local Community Coordinator.
Help spread the word about Spring GoByBike
May 31 – June 6, 2021
Description:
GoByBike BC Society is celebrating Spring GoByBike from May 31 to June 6, 2021 and encourages British Columbians to ride their bikes as much as possible during that week. Whether it's to work, to school, for fun, for exercise, to stretch your legs between Zoom meetings, to clear your mind … no matter the reason, just ride your bike!

GoByBike BC Society wishes to stress that provincial health COVID-19 physical distancing rules remain in effect. Please continue to respect all health guidelines for physical distancing and cycle responsibly.
Goals:
More than 50,000 British Columbians will log at least one bike ride during May 31 – June 6, 2021.
People will discover how enjoyable it is to ride a bike, and continue to ride their bikes daily which leads to improved mental and physical health.
People will encourage each other to get healthy and help the environment by riding a bike through forming teams and celebrating the joy that cycling brings. More than 3,000 teams will be formed for Spring 2021 GoByBike.
GoByBike Information & Resources
Social Media:
Facebook: @gobybikebc
Instagram: @gobybikebc
Twitter: @GoByBikeBC
Pinterest: gobybikebc
Spread Messaging via Social Media:
Example Instagram Content:
The countdown is on for #SpringGoByBike from May 31 – June 6, 2021. Register FREE at GoByBikeBC.ca.
Spring GoByBike Week is coming up! Get ready to pedal some kilometers between May 31 and June 6 for a chance to win great prizes, including an Exodus Travels Cycling Adventure in Croatia, Cycling the Dalmatian Coast. You only need to ride your bike once to enter the prize draw; but the more you ride your bike the more chances you have to win!

This spring ANY bike ride counts: around the block, pump track laps, to and from work or school (from home), to get some groceries, to get some exercise, to take a break from your screens, to de-stress, to have fun, to…. Log any and all bike rides at GoByBikeBC.ca to enter the prize draw, track your progress, and see how many greenhouse gas emssions you offset and calories you burn.
Do you use STRAVA? You can also link your GoByBike account with your STRAVA account so that every time you ride using STRAVA, your bike rides are automatically logged in your GoByBike account and you are entered into the prize draws.

Create a team for more chances to win team prizes! You can find more info about how to create a team and other useful things under "Resources" on our website GoByBikeBC.ca.

#gobybikebc #springgobybike #springgobybikebc #gobybikeweek #springgobybikeweek #stayactive #exercise #gobybikeyearround #getoutside #britishcolumbia #bc #cyclebc #cycle #cleancommute #bikelife #enjoytheride #cyclist #outsideisfree #burnfatnotfuel #justbikeit #winatrip #exodustravels
Example Social Image: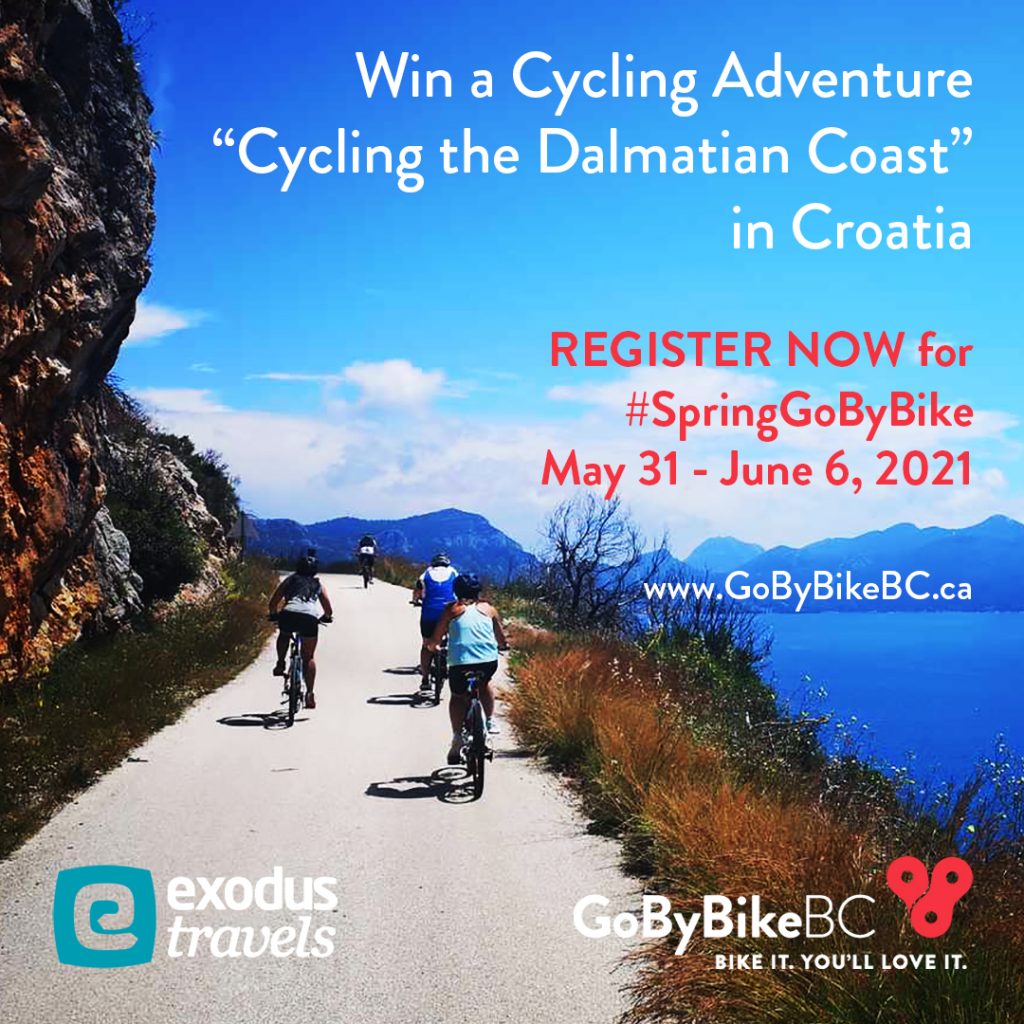 About GoByBike BC Society, GoByBike and Bike to Work & School Week
Formerly Bike to Work BC Society, Go By Bike BC Society is a non-profit society that facilitates GoByBike, Bike to Work, and Bike to School programs in more than 100 communities throughout BC.
We break down the perceived barriers that prevent people from using a bicycle for everyday transportation by creating an environment of encouragement and support and getting people to try it for the first time. Once people discover how enjoyable it is to use their bicycles for transportation during GoByBike Week, Bike to Work Week, or Bike to School Week, many will continue to use their bikes instead of their motorized vehicles. Ninety-two percent of our 2019 post-event survey respondents state that GoByBike Week motivates them to continue to use their bikes for transportation after the event is over.
Learn more about program inception and history over the last 25 years >>
Photos may be accessed via Flickr.
The 2016-2019 photos can be accessed here: https://www.flickr.com/photos/147016926@N07/albums
Photos from events in 2011-2015 can be accessed here: https://www.flickr.com/photos/biketoworkbc/albums