That's a wrap! Congratulations to all Spring GoByBike Week winners! Thank you all for joining us for the ride!
The final numbers are in and we are excited to announce the winners of the Spring GoByBike Week Provincial Prizes!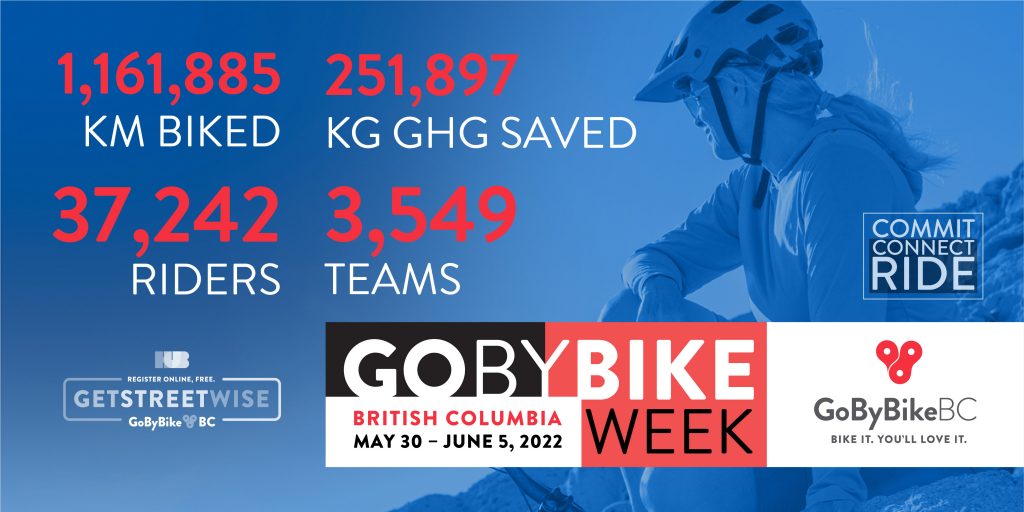 GRAND PRIZE: "Pearls of Holland" – A Self-Guided Cycling Adventure for 2 in The Netherlands sponsored by Exodus Travels
– Jennifer McGowan, Campbell River, read the full story HERE
AXIOM CYCLING GEAR
– a P9 Trunk Bag goes to Lillian NG, Comox Valley, and Brenda Cortes, Kelowna & Central Okanagan
– a P4 Handlebar Bag goes to Dean Holmwood, Oceanside, and Emily Cavanagh, Whistler
– a P25 Pannier Twinset goes to Alecandre T, Campbell River, Rebecca Schutte, Metro Vancouver, Michael Kristiansen, Kelowna & Central Okanagan, and Jeff Jacob, Nanaimo
– a set of WATERPROOF MONSOON 32+ PANNIERS goes to Brian Miller, Cranbrook
$250 SUGOI E-GIFT CARD
– Alma Foot, Prince George
MEC PRIZE PACKS
– a $150 MEC Gift Card goes to Hayley Colpitts, Revelstoke
– a MEC Skyway helmet goes to Kendall McLaughlin, Salt Spring Island
– a MEC Apex floor pump goes to Dana Britton, Harrison
7MESH COMBO (hat, bike shirt, water bottle)
– Sarah Tyrell, Langley
– Doug Chinnery, Hornby Island
ORTLIEB VARIO PS donated by NRG
– Samuel Breton, Colwood
$100 E-GIFT CARD FOR ONEUP COMPONENTS
– Kyle Finstad, Grand Forks
2-NIGHT STAY IN PANORAMA, BC, & 2 BIKE PARK PASSES
– Verity Pringle, Whistler
$25 E-GIFT CARD FOR OUTWAY APPAREL
– Shannon Peterson, Mackenzie
"LET'S GO BIKING" E-BOOKS: VANCOUVER, OKANAGAN or VANCOUVER ISLAND
– Derrick Murphy, Golden
– Ashley Sanche, Kimberley
– Kimberley Church, Kelowna & Central Okanagan
$100 VISA GIFT CARD – SCHOOL TEAM LEADER PRIZE
– Nina Moore, Whistler (Whistler Waldorf School)
$100 VISA GIFT CARD – TEAM LEADER PRIZE
– Craig Brownlee, Fort St. John
$50 VISA GIFT CARD TEAM LEADER PRIZE
– Chantale St. Pierre, Bella Coola
$25 VISA GIFT CARDs go to
– Heather Crozier, Merritt
– Amanda Workman, Oliver
– Rob Frost, Port Hardy
– Helen Hopkins, Fernie
– Drew Pilling, Chilliwack
– Kai & Irene Rasmussen, One Hundred Mile House
– Shelley Carson, Powell River
– Helene Fleury, Smithers
– Bryan Boldt, Kelowna & Central Okanagan
– Shane Price, Port McNeill
– Anne Bock, Quesnel
– Kelly Pagliocchini, Summerland
– Henri Simpson, Ucluelet
Make sure to check your inboxes (spam folders?) – you could be one of the lucky winners!
Thank you to all participants, volunteers, coordinators, communities and sponsors joining us for a ride – or two – this spring! Riding with friends is always more fun!
Now save the date for #FallGoByBikeWeeks: October 3 – 16, 2022!