Thank you for two fantastic GoByBike Weeks!
If you haven't logged all your rides, you have until midnight Sunday, November 5th, to record all your bike rides in your LogMyRide account.
Please log ALL your bike rides! Any ride counts: to/from work or school; getting groceries or running errands; to meet friends; to get some fresh air; trail rides; pump track laps; recreational rides to explore your region… Tell your friends to log ALL their rides to WIN more prizes!
If you haven't REGISTERED for Fall GoByBike Weeks: you can still do that HERE and then LOG your KMs dated October 16-29 HERE. Find a quick guide on "How to back-log rides for October 16-29, 2023" further down this email, or click here to watch a 20-second video.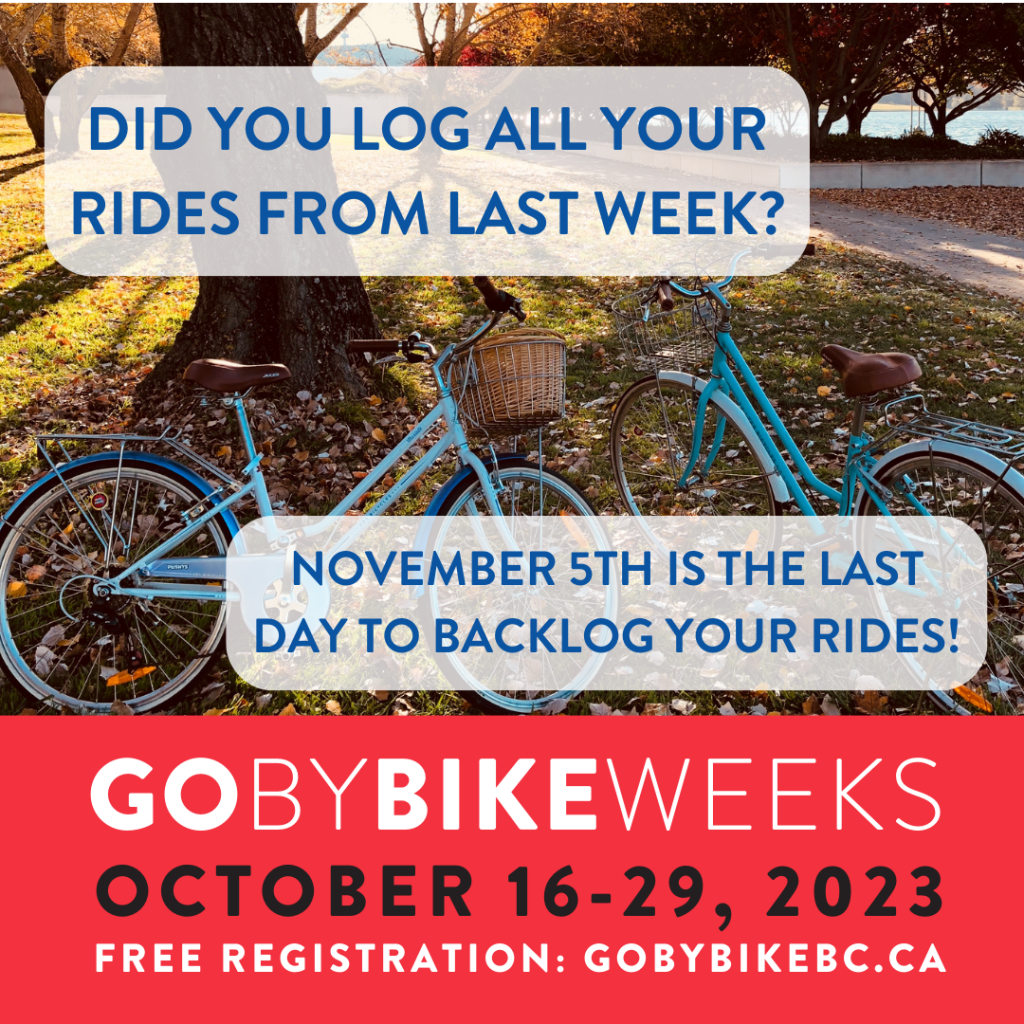 Why do we ask you to log ALL your rides?
Every ride logged increases your chances to win prizes AND every logged ride is important because:
it shows that people DO ride bikes and require safe bike lanes, riding areas, and bike facilities (bike racks/lockers, etc.);
GoByBike BC Society shares participation stats (e.g. total logged rides and KMs) with provincial and community-level government to show them that people ride year-round, and hopefully decisions like the recent council decision in Penticton are avoided;
when you map your route using Google Maps, we can share that data with your local government to show them where safe cycling infrastructure is needed;
GoByBike BC Society funding depends on logged participation data (which is concrete evidence that the GoByBike Week encouragement campaigns DO encourage people to #GoByBike during the event time frame);
the more rides logged helps us, and communities in BC, get funding allocated to cycling and GoByBike programs.
The more rides logged = more chances to win prizes AND more funding to keep GoByBike BC programs running.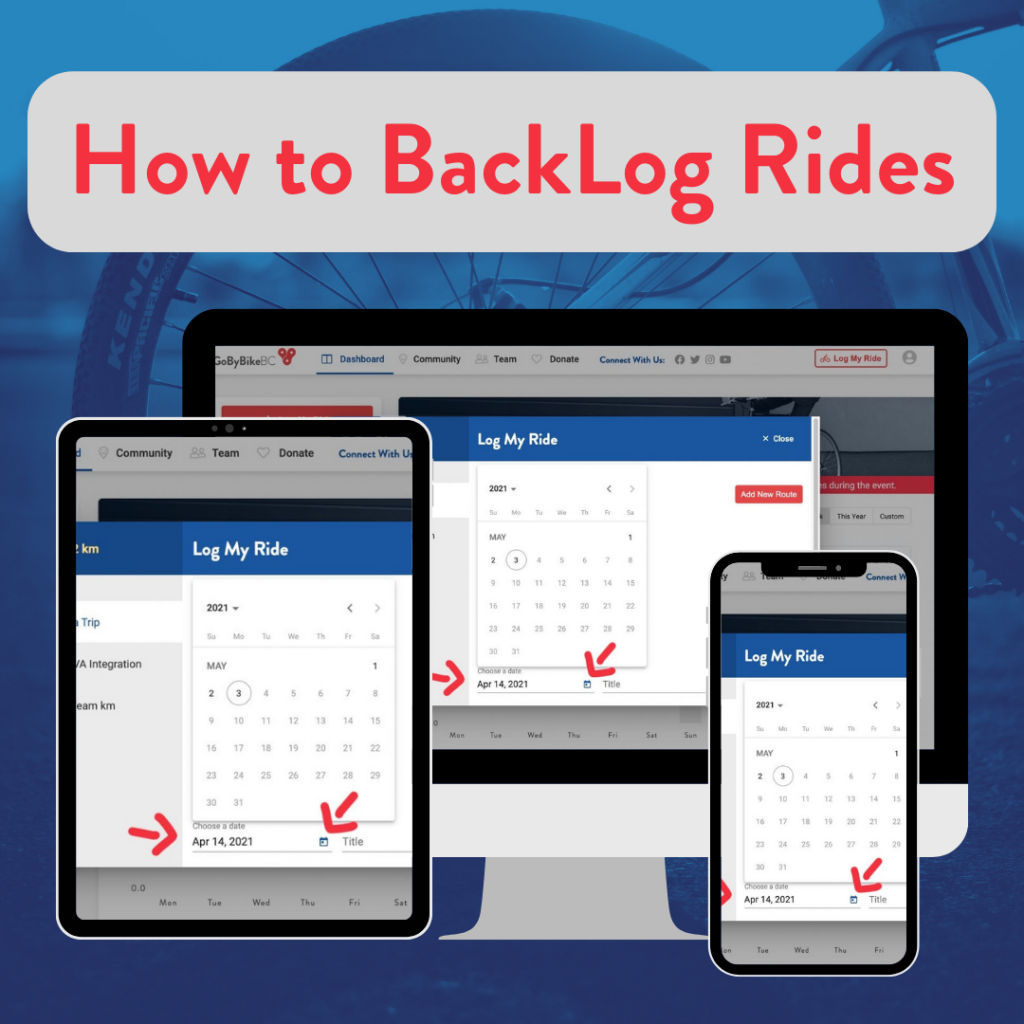 How do I backlog my rides for October 16 – 29?
Log into your account HERE.
Click Log My Ride.
Change the date to backlog the ride. Click the calendar icon beside the date, and use the calendar to find the date you want to log the ride for between October 3-16.
Enter the nature of the bike ride, for example, "for fun," "to the bank," or "to school," etc.
Enter the kilometres biked.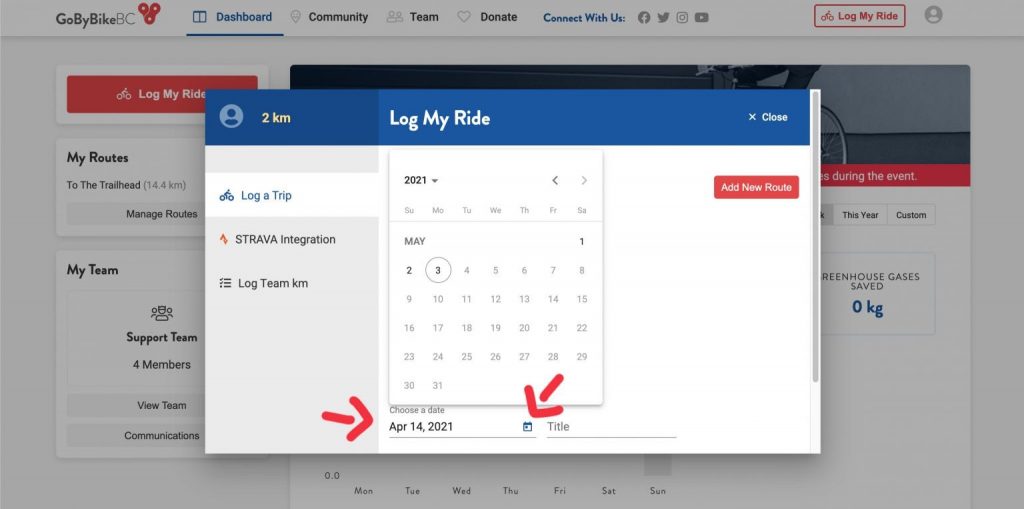 How do I backlog my rides for my teammates?
Log into your account HERE.
In the Team section, click Log Team KM.
Bulk-Log Kilometres: Enter teammates' kilometres in the table. You can select individual riders or "All". See the screenshot below.
Multi-Rider Mode: This lets you enter the same trip for all members of your team at once. You can edit or delete individual rides once you click "apply". See the screenshots below in the next section.
Make sure to choose the right date in "Week Range" when you are logging kilometres from the past.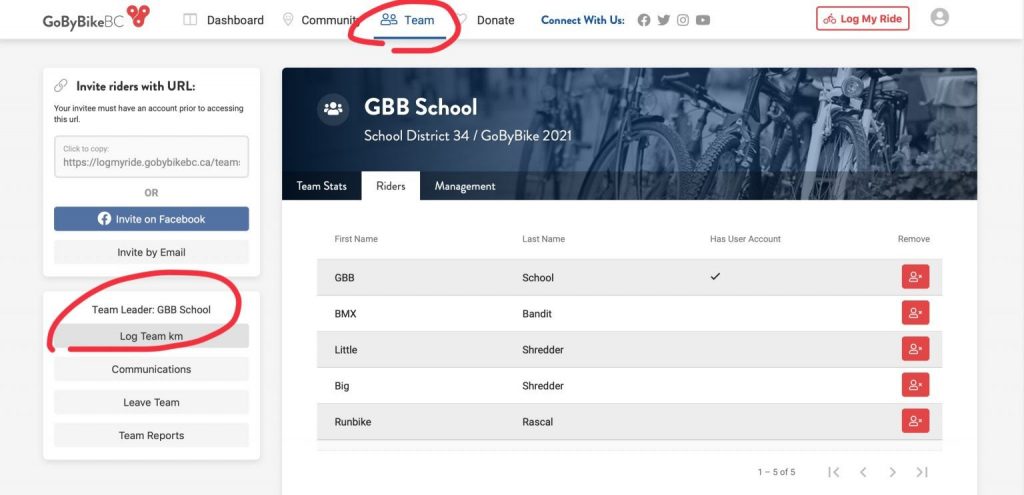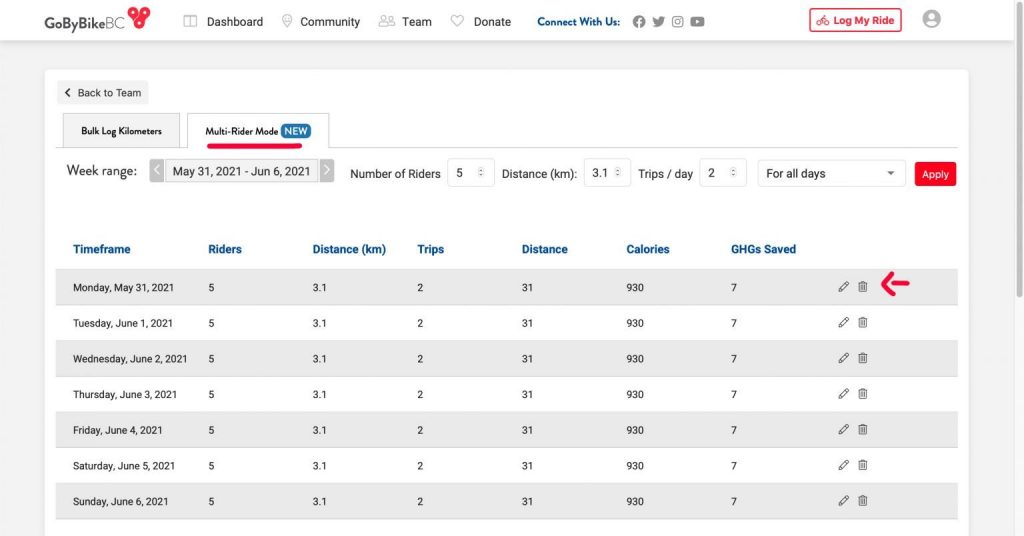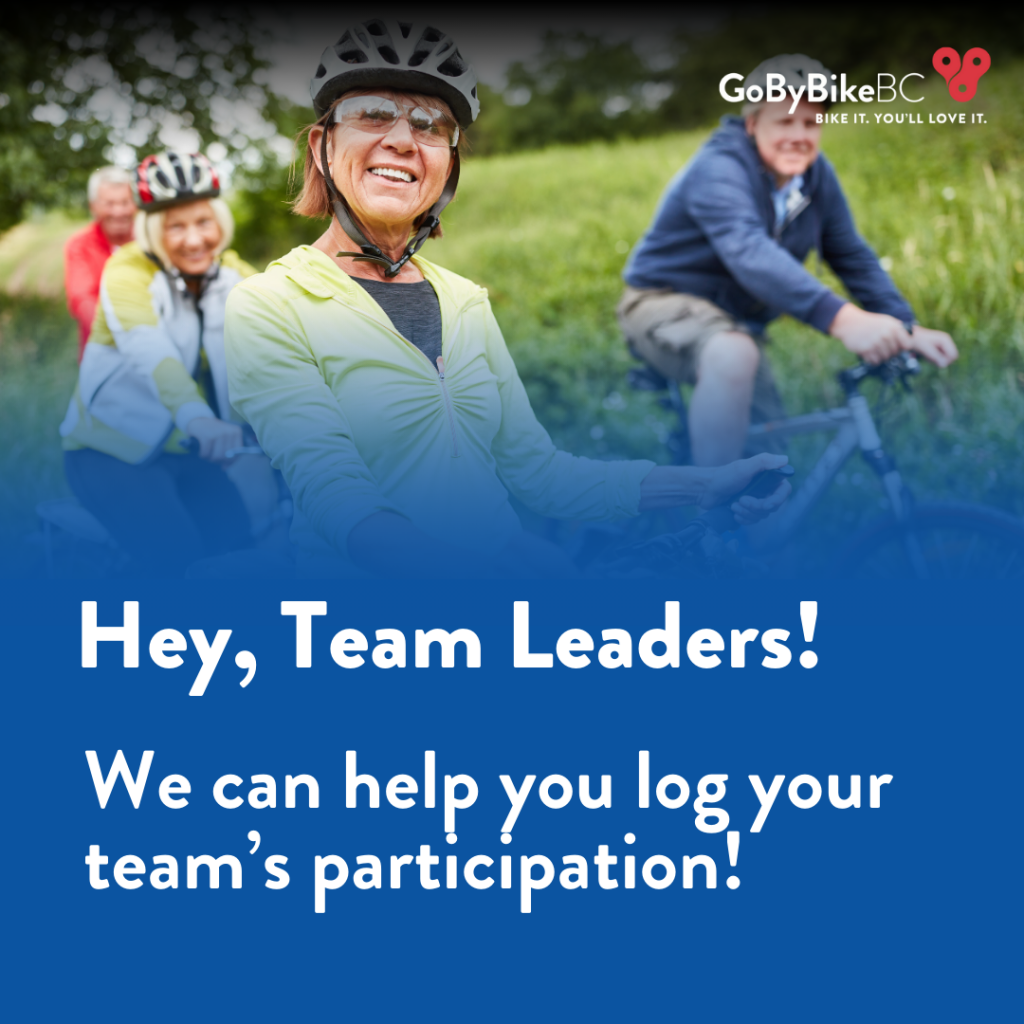 Send us the following information and we can load the rides for you!
Your team name
Your team members' name(s)
The ride details: total kilmeters, and if it was a ModeShift ride
Email the details to support@gobybikebc.ca before November 5th!