Win a Pedego E-bike by GoingByBike; Student Colouring Contest; More Prizes…
Will you be one of the next three winners of a Pedego E-Bike this Fall GoByBike Weeks?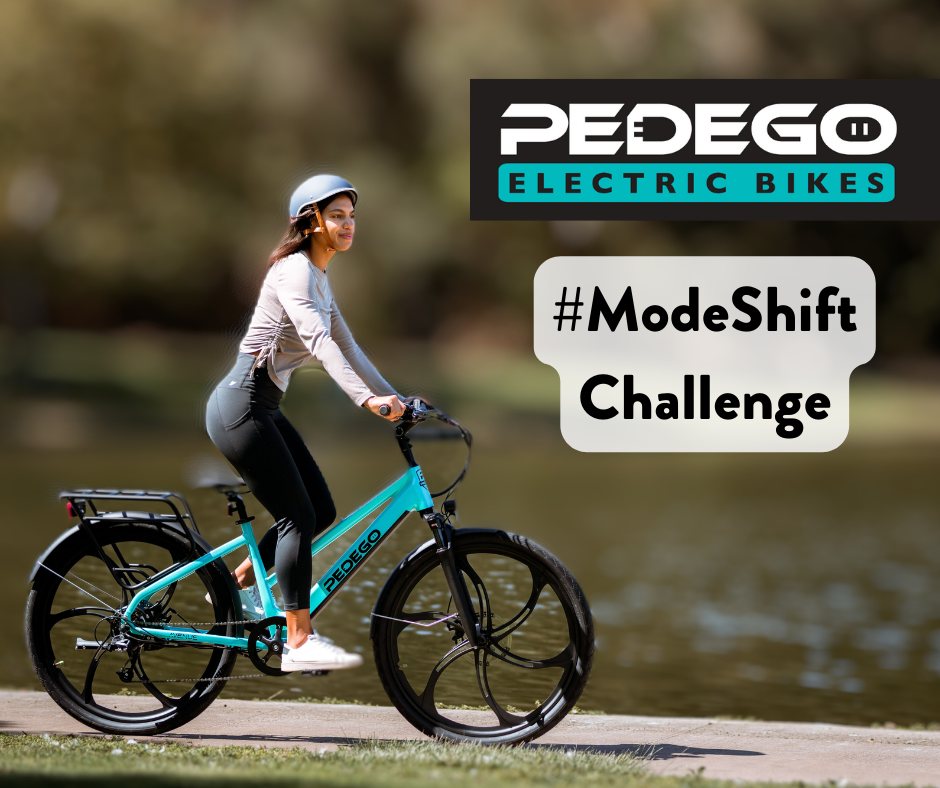 If you'd like to win a Pedego E-bike, all you need to do is:
GoByBike instead of by motor vehicle during GoByBike Weeks (October 16-29, 2023)
Log your bike ride here
When you log your bike ride(s), check the box to indicate that this ride was a transportation mode shift
The more mode shift rides you log, the more entries you get into the prize draw! Don't miss out on this amazing opportunity to win an e-bike! Start pedalling your way to a greener lifestyle today.
Click here to log your rides and enter the prize draw.
In the meantime, check out these great cycling resources including Ebike Safety and Maintenance Tips compiled by Pedego Electric Bikes.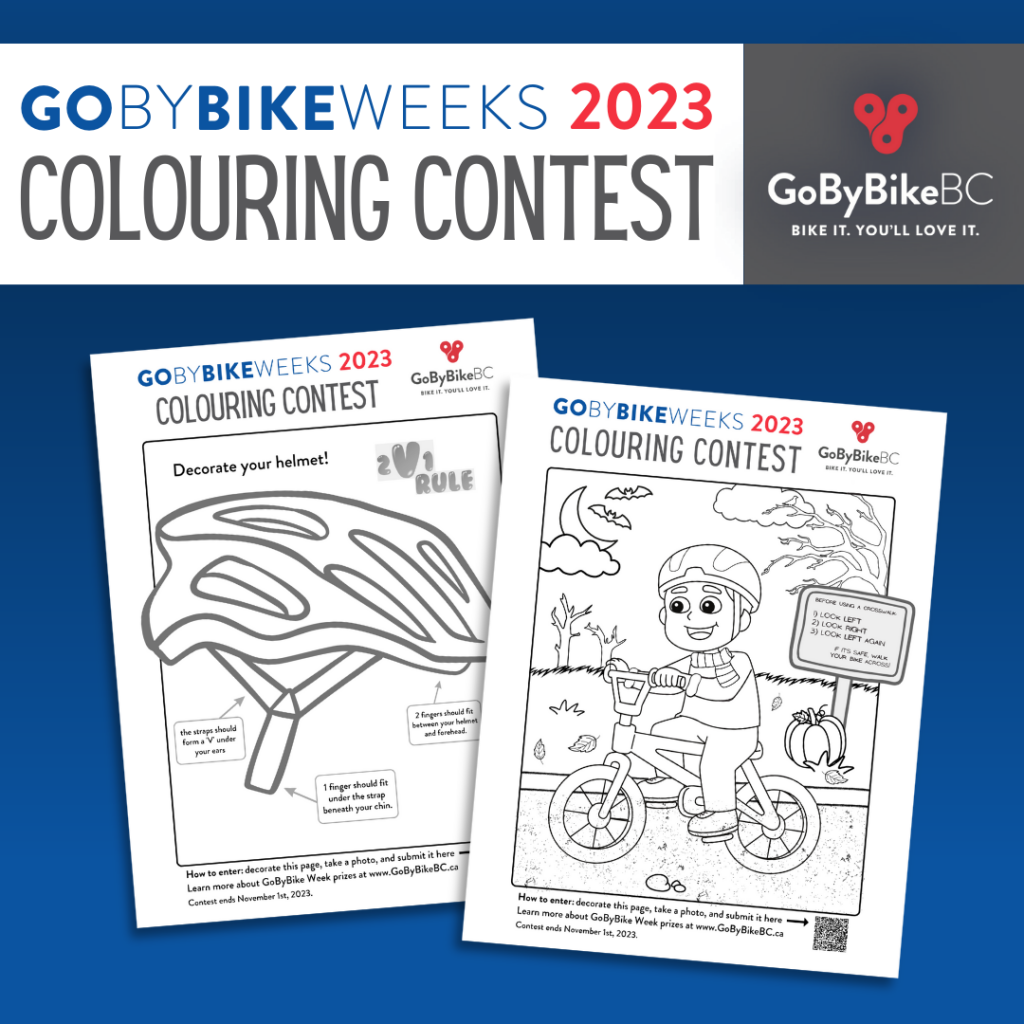 Introducing our first-ever #GoByBikeWeek Colouring Contest!!
Schools, Team Leaders and parents, get kids pumped for cycling this fall with our Halloween-themed colouring contest! 🎃👻 Simply print a colouring sheet (or both), colour or create your own design, and submit the artwork online by Nov 1st for the chance to WIN a Bike 'Glow Up' Kit!!
These prize packages include LED wheel lights, multi-coloured spoke beads and covers, and a new helmet (because we know that kids are always outgrowing theirs).
👉 Click HERE to download the colouring sheets
👉 To submit the finished sheet, scan the QR code on the sheet or click HERE to upload the file!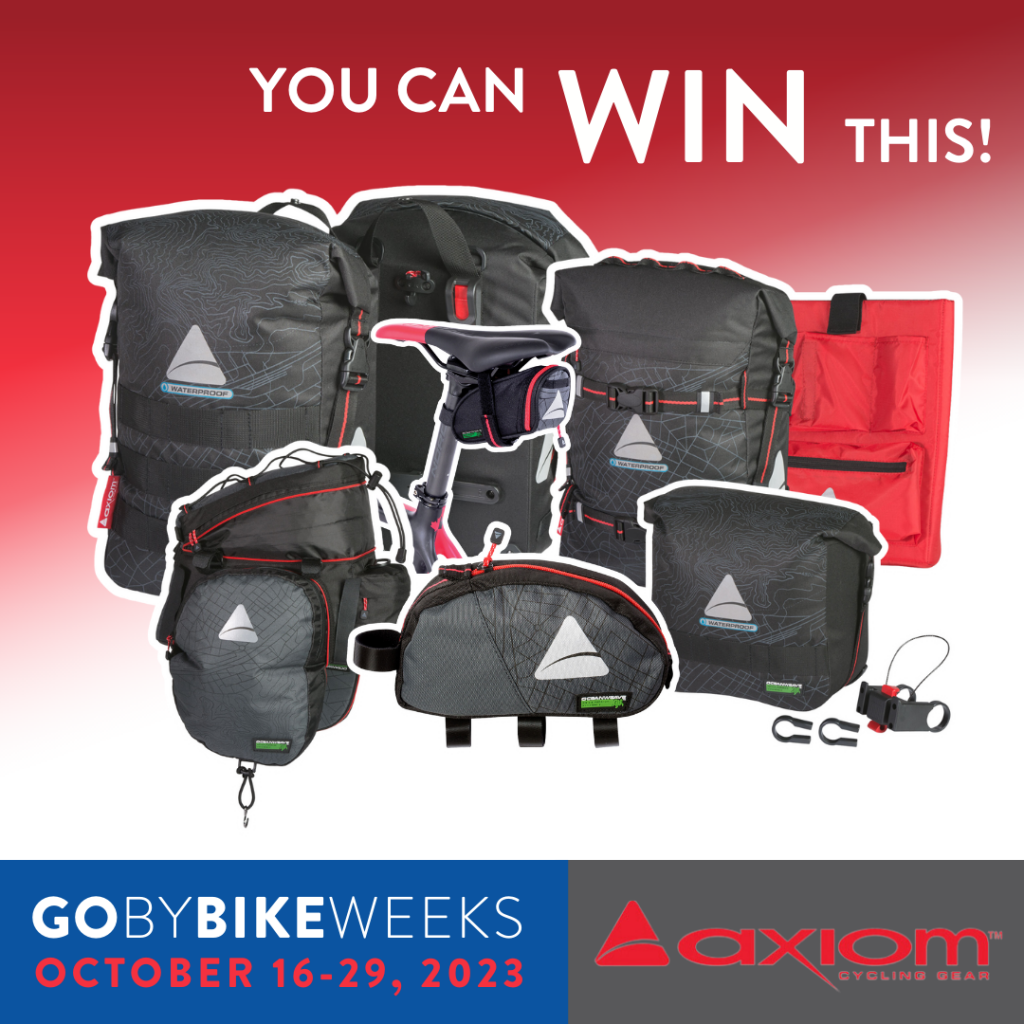 Provincial Prize Alert Log a Ride to Win Axiom Gear!
Registered participants logging at least one trip enter for a chance to win one of the following bags sponsored by AXIOM CYCLING GEAR:
– a P9 Trunk Bag or
– a P4 Handlebar Bag
Each and every Axiom bag is made from Axiom's proprietary Oceanweave fabric, constructed with recycled, reclaimed fishnets – the world's first cycling bags to do so. The entire product line is sustainable, made from reclaimed and recycled materials. Axiom ensures their products are ethically produced by trusted partners who are like family.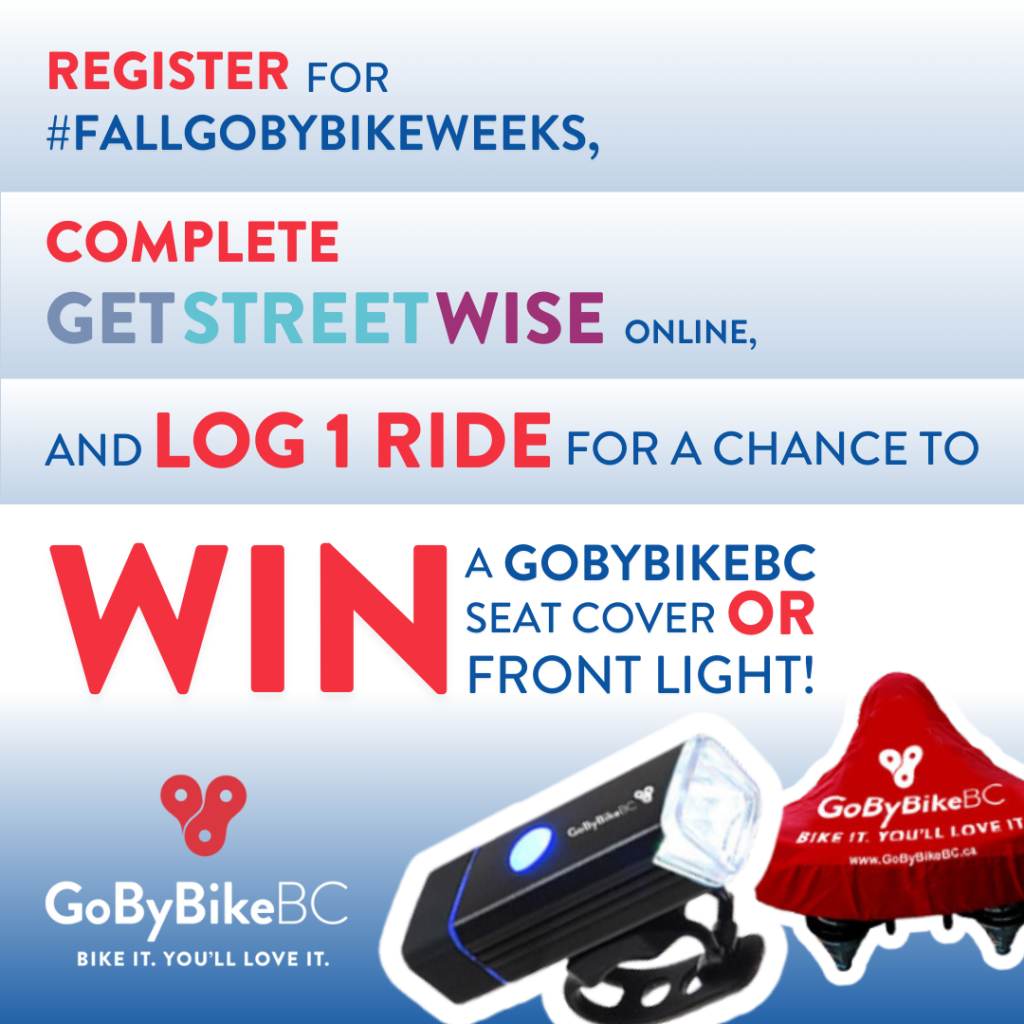 Fall GoByBike Weeks Safety Challenge!
To kick the season off, we are giving away bike lights or seat covers to the first 100 people who:
👉 Register for FallGoByBikeWeeks by creating a FREE LogMyRide account or logging a ride (if you already have an account)
👉 Complete the FREE HUB Cyling GetStreetWise online course at here.
👉 Log at least 1 bike ride during FallGoByBikeWeeks from October 16-29th.
Please email us a screenshot of your GetStreetWise Course Completion Certificate to safety@gobybikebc.ca by October 23rd.