Spring GoByBike Week is Here! Log Your Rides to be Part of our Provincial Voice!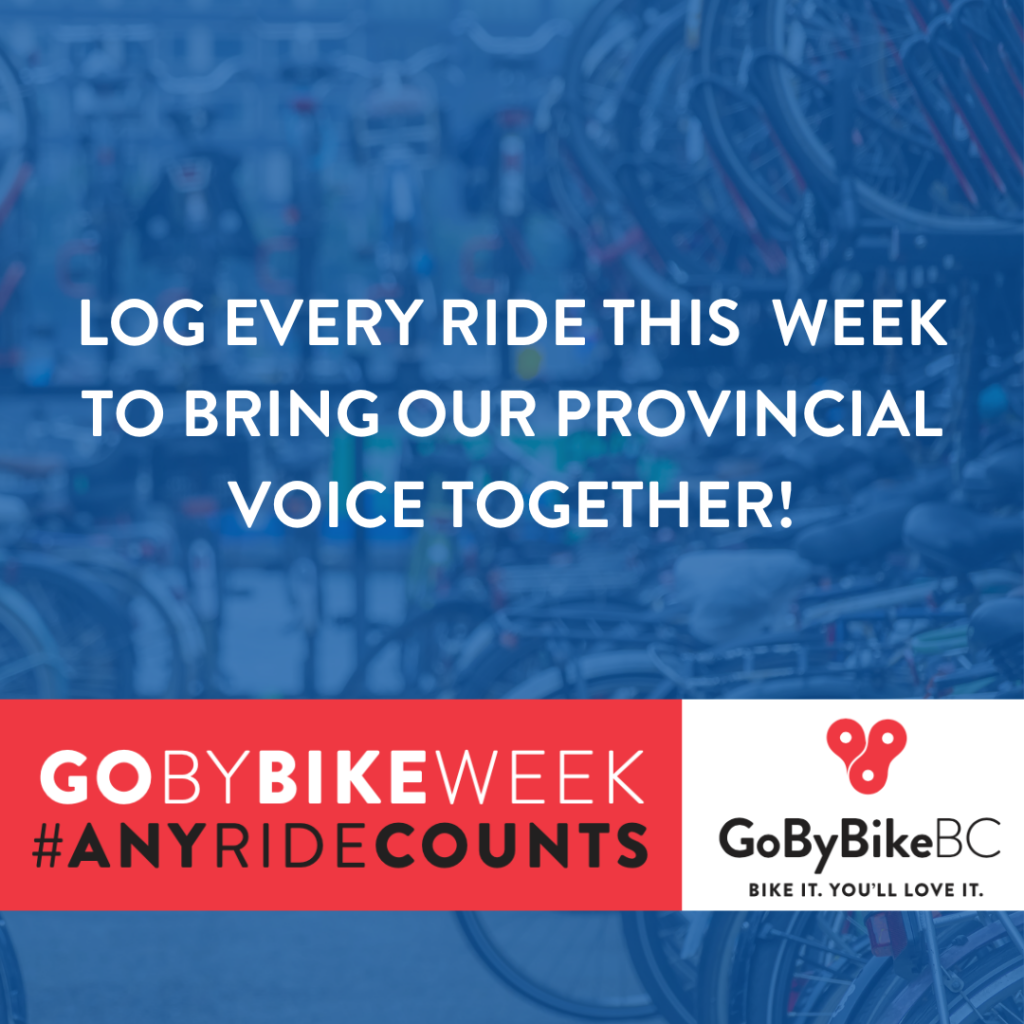 Log all your rides to help show the need for more cycling infrastructure in your community!
Spring GoByBike Week is here! We are thrilled to see so many first-time and regular riders join their Community Events to celebrate cycling and active transportation. Make sure you log every bike ride on LogMyRide to join our provincial voice and show the importance of safe cycling infrastructure in BC Communities.
Encourage others to join you!
Help spread the joy of riding and invite people to join your team, here's how. Please encourage teammates to ride as much as possible this week, and log all their bike rides to help us show the need for more cycling infrastructure in BC Communities. You can also log bike rides for teammates, learn how below.
More rides logged equals more chances to win!
Every ride logged increases your chances of winning prizes! Log all your rides here until midnight on Sunday, June 4, 2023. Make sure to read below for more details about how to enter into all prize draws, including the provincial draws for the Cycling Adventure in Croatia, Pedego E-Bike, Amazon Gift Cards, and more.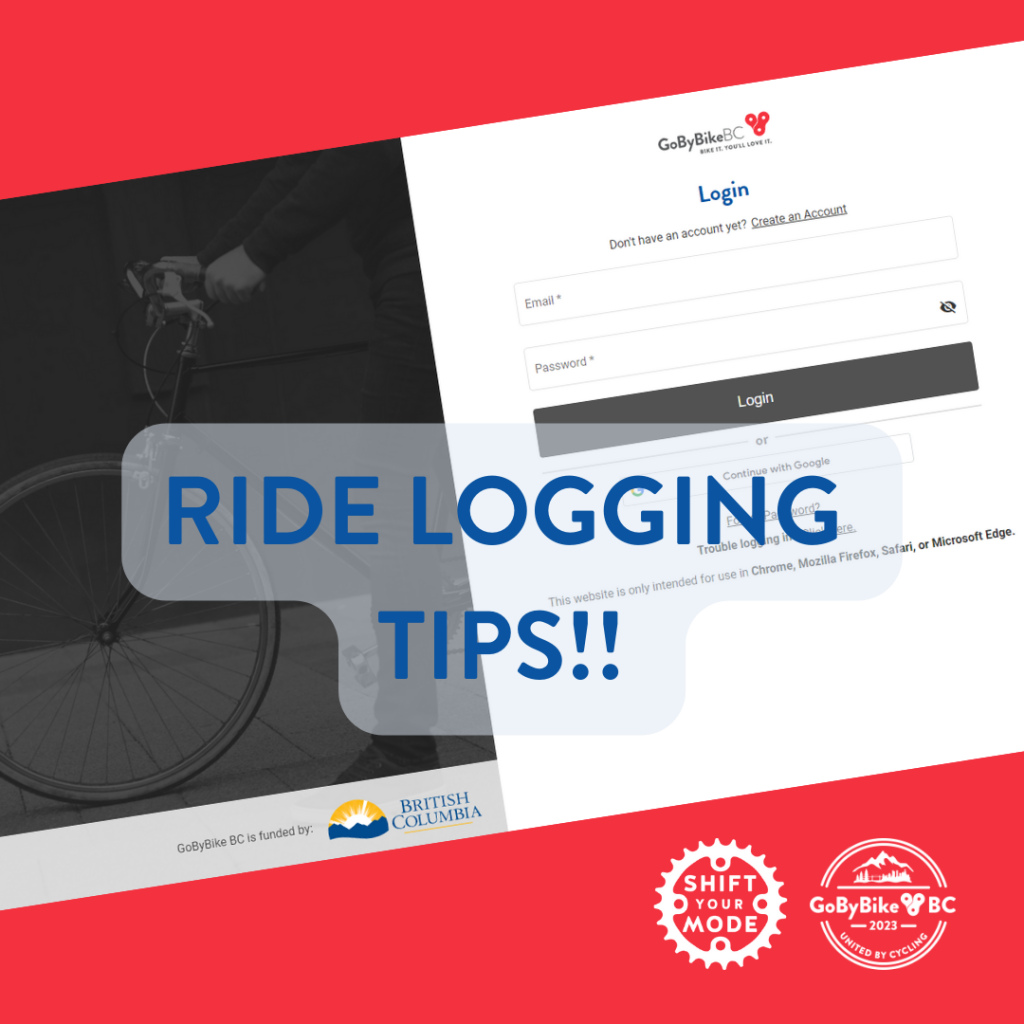 How to log rides for team members:
Thank you, Team Leaders, for being role models and inspiring others to try GoingByBike instead of by motor vehicle! You are helping others discover the joy of active transportation, which encourages them to make healthy lifestyle changes to benefit their physical and mental health and BC's environmental health. It's quick and easy for you to log your teammates bike rides: here's how to log rides for your team members. It's important to log all bike rides to build a strong collective voice that proves the need for more cycling infrastructure in BC communities.
Need help?
Check out our updated FAQ section and if you cannot find the answers you are looking for please email support@gobybikebc.ca.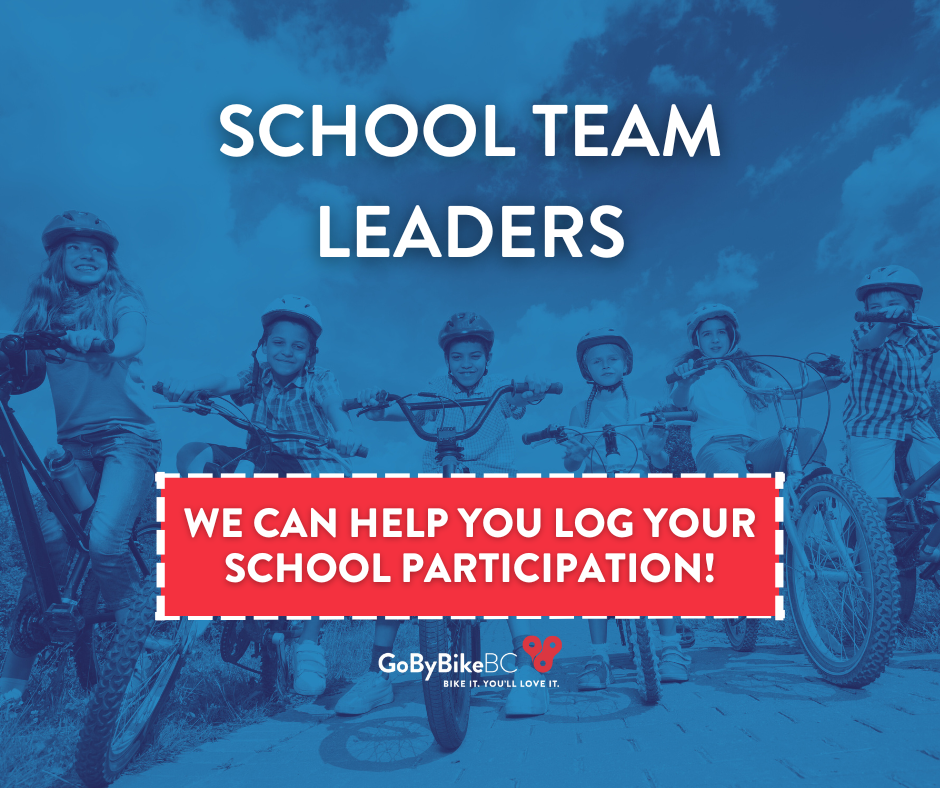 Logging school team participation online:
We understand that the end of the school year is one of the BUSIEST times of the year for teachers and administration! If using LogMyRide seems daunting, let us help: we can log your school's participation for you!
Here's how:
1) Download and print this Participation Tracker to use in classrooms to keep track of how many students participate
2) After June 4th, fill out this 5 simple question form and we will handle the rest!
Show your school community and other schools in BC how many kilograms of Greenhouse Gases your school saved during GoByBike Week!
If you have any other questions or concerns, please do not hesitate to reach out to our team at info@gobybikebc.ca.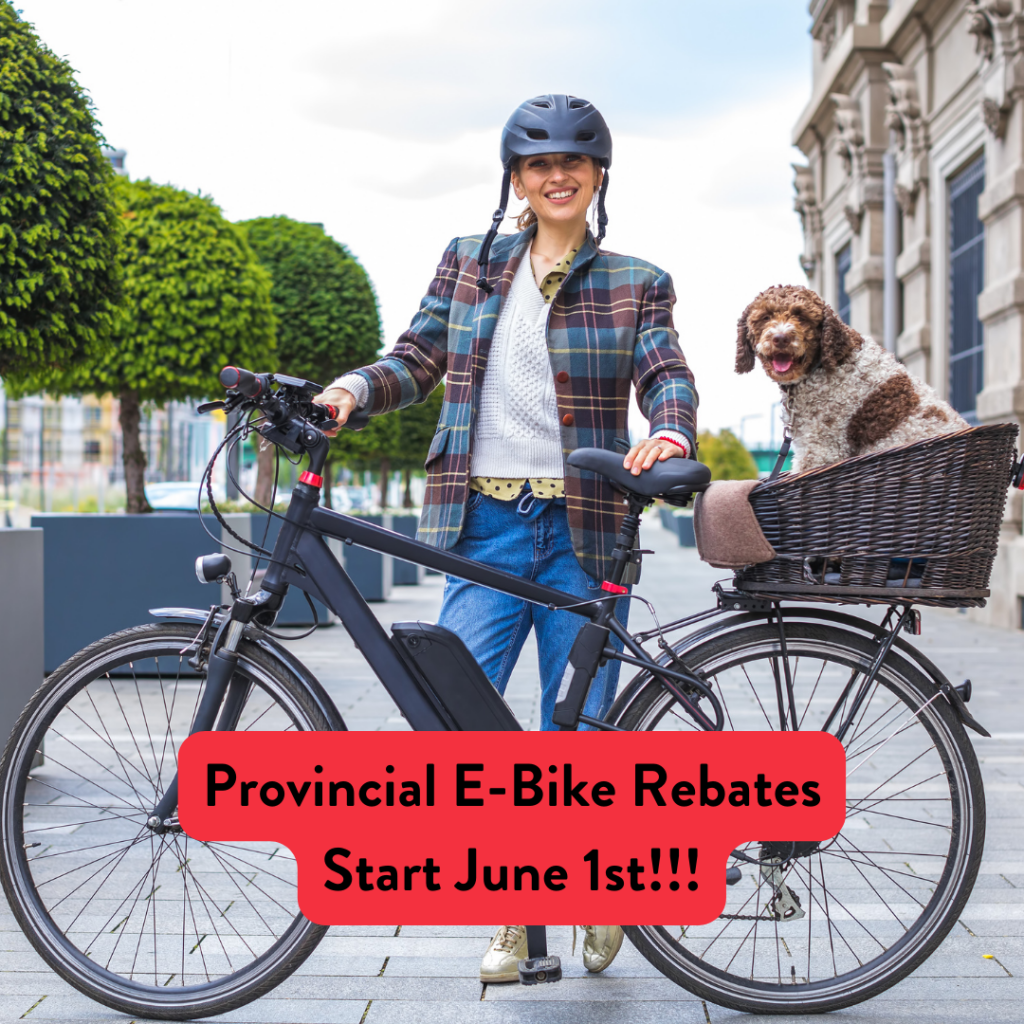 Rebates make new e-bike purchases more affordable!
Beginning June 1, 2023, rebates on the purchase of an approved e-bike will be available to BC residents older than 19 and will be based on a person's income. Rebates will range from $350 to a maximum of $1,400. Unlike previous programs, there is no need to scrap a car to access the rebate.
More details here: https://news.gov.bc.ca/releases/2023MOTI0071-000804
Apply for a rebate here: https://bcebikerebates.ca/4easysteps/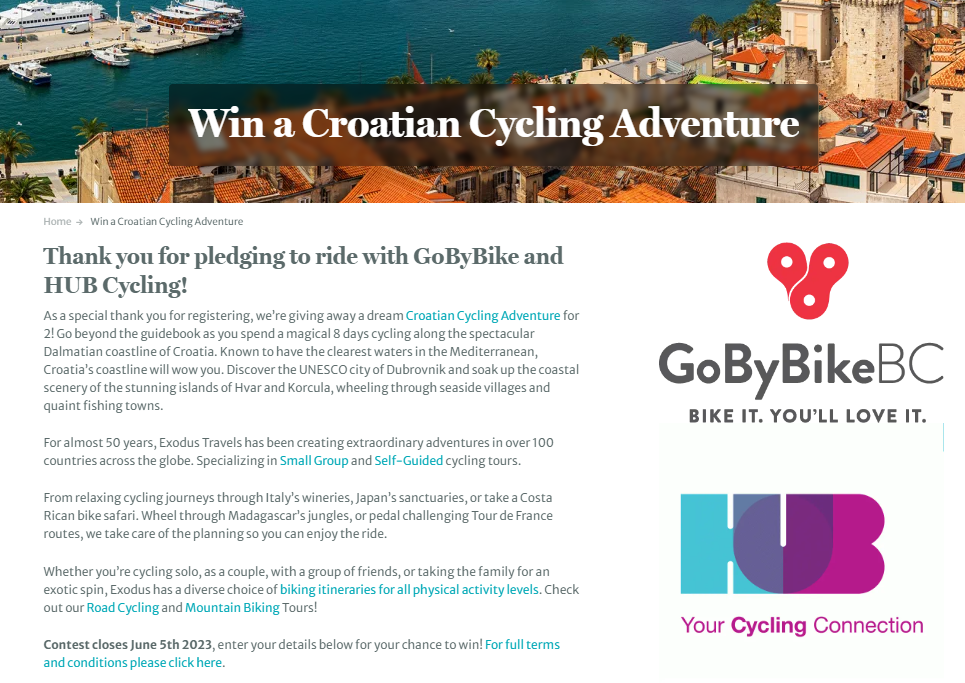 Don't forget to enter the Exodus Travels prize draw on the Exodus Travels website to qualify for the Croatian Grand Prize!
The Spring GoByBike Week 2023 Grand Prize is an amazing self-guided cycling adventure for two in Croatia, sponsored by Exodus Travels! To qualify for this AMAZING prize, ensure you have completed these TWO steps:
👉 Log at least one bike ride during May 29 – June 4, 2023. Any bike ride counts. Getting around on smaller wheels like scooters and roller blades counts, too! As well as taking the bus part way, carpooling halfway, or using a car for a portion of a long commute!
👉👉Enter the Exodus prize draw on the Exodus Travels website (click here).
Both steps MUST be completed in order to qualify!
#gobybikebc #modeshift