Announcing the winner of the BC's Fall GoByBike Weeks grand prize, an Exodus Travels Cycling Adventure in Italy

GoByBike BC Society is proud to announce the winner of BC's 2022 Fall GoByBike Weeks grand prize Exodus Travels Cycling Adventure in Italy: Brendan Wesley, from Kelowna, BC. Brendan works for Dawson International and participated as part of the Dawson International GoByBike Week Team, "it's such a fun and competitive way to encourage people to get out and bike," he says. 
Brendan rode his bike three times during the event and logged all three trips during Fall GoByBike Week, "I think it's easy to say that I'll be signing up for every GoByBike Week in the future!"
Brendan is taking his father as his plus-one on this adventure, "my dad is of Italian descent and has never had the opportunity to visit Italy," he says. "My family thought it was such an amazing opportunity that my sister and mother are also coming along with us!"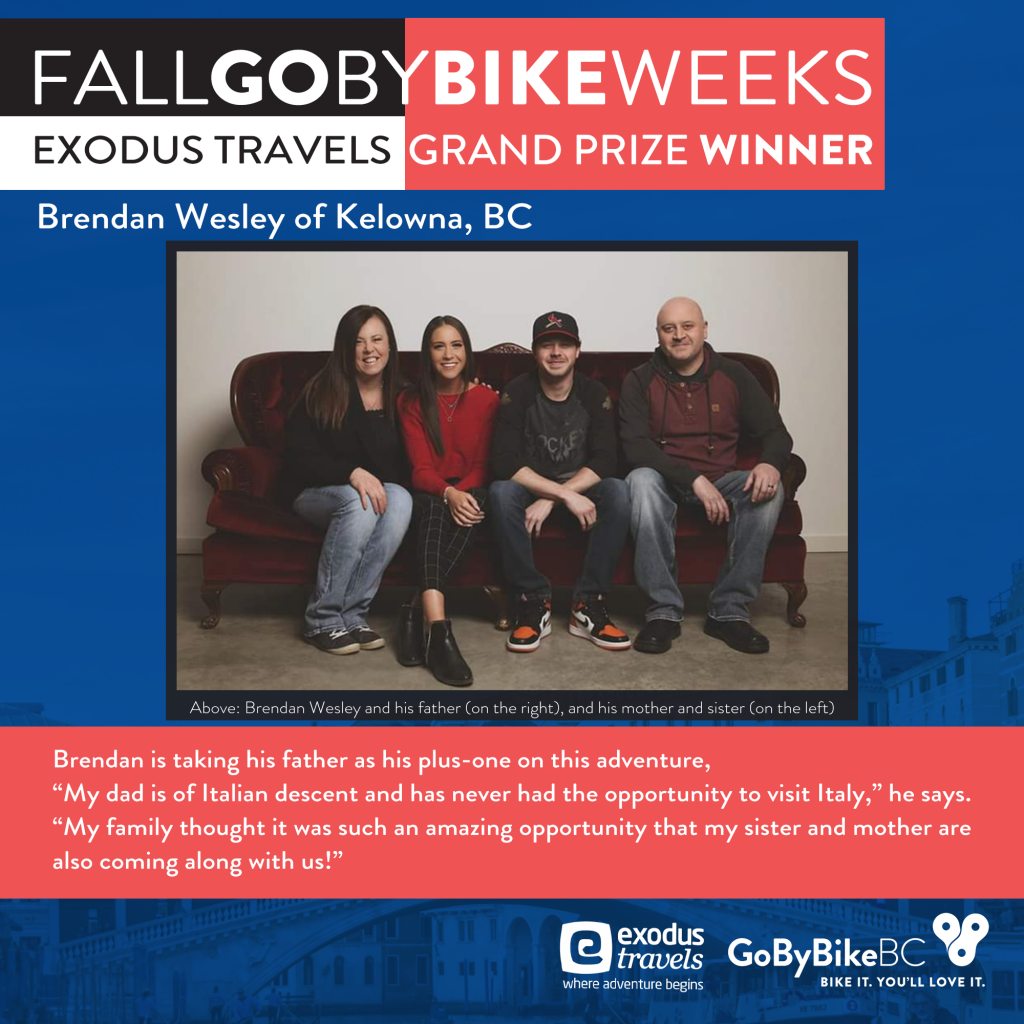 "This event made me think about using my bike for transportation more often and using my car less. So much so, I've decided in the warmer months I will be going by bike almost exclusively."
Exodus Travels has been supporting the GoByBike BC Society for the past nine years, sponsoring the grand prize trip. Gemma Jones, Exodus Travels' Acquisition Marketing Manager, says that this initiative is directly in line with their company vision: "At Exodus, we love to partner with like-minded riders, people, and communities across the globe. With cycling trips in Canada, the USA, England, Italy, France, Morocco, Nepal, India, South Africa and so much more."

"Exodus believes that a bike lets you fully engage with your surroundings and really immerse yourself in a destination with minimal environmental impact. For over 45 years, this National Geographic award-winning company has been crafting a wide range of cycling trips across the globe, whether you're craving thrilling off-roading in Morocco's High Atlas Mountains, or leisurely routes through Italy's serene countryside. In the spirit of making the most of the great outdoors, Exodus offers over 600 Cycling, Walking/Trekking, and Responsible Wildlife adventures." 

"A big congratulations to every one of you who participated in the event! From biking enthusiasts to first-time riders and families, words cannot express how thrilled we are to see so many people participating in this extraordinary cause. Don't forget, you are always leaving the world a better place when you see it by two wheels," said Jones.A big thank you, to Exodus Travels for sponsoring, GoByBike BC Society's Fall GoByBike Weeks, and donating the bike adventure trip for two to Italy. And once again, congratulations to Brendan Wesley for winning this amazing prize. Thank you to all 15,407 participants who biked 996,882 kilometers and saved 216,124 kilograms from entering our atmosphere between October 3-17, 2022. Keep GoingByBike all year round instead of by motor vehicle and we all win with cleaner air, healthier lifestyles, and more joy in our communities. 
Now save the date for Winter GoByBike Week: February 6-12, 2023!