The Countdown Is On for #SpringGoByBikeWeek With More Provincial Prizes Announced!
Spring GoByBike Week is just around the corner – have you registered yet?
#AnyRideCounts this spring: to and from work or school, to get groceries, to get some fresh air or meet up for a coffee with friends, trail rides, pump track laps, recreational rides to explore your region. Taking the bus part way, carpooling or driving yourself to where your bike ride starts also counts. Make it count! Tell your friends! Create a team! Register now and log your trips between May 30 – June 5, and enter for a chance to win one of many great prizes!
GRAND PRIZE: "Pearls of Holland" – A Self-Guided Cycling Adventure for 2 in The Netherlands sponsored by Exodus Travels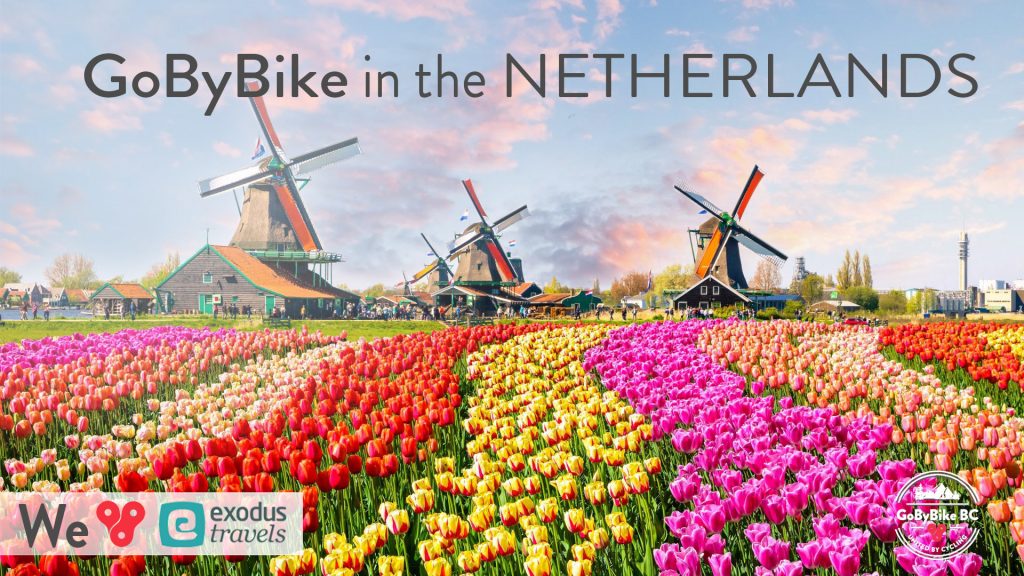 How to enter into the draw for the Spring GoByBike Week Grand Prize:
Prize winner must be 19 years of age or older. Prize package does not include round trip airfare.
AXIOM CYCLING GEAR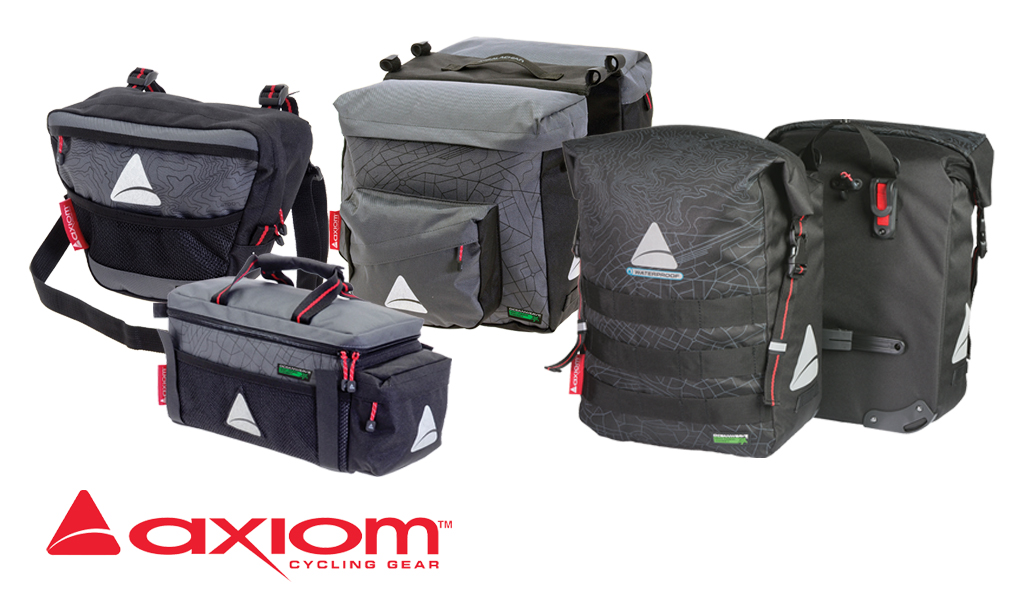 Registered participants logging at least one trip enter for a chance to win one of the following bags sponsored by AXIOM CYCLING GEAR:
– a P9 Trunk Bag or
– a P4 Handlebar Bag or
– a P25 Pannier Twinset or
– a set of WATERPROOF MONSOON 32+ PANNIERS:
Each and every Axiom bag is made from Axiom's proprietary Oceanweave fabric, constructed with recycled, reclaimed fishnets – the world's first cycling bags to do so. The entire product line is sustainable, made from reclaimed and recycled materials. Axiom ensures their products are ethically produced by trusted partners who are like family. Quality products with a lifetime warranty, because product made to last means less waste. At Axiom, thoughtfully designed bicycle accessories for all types of riders are being created. Together with their partners, Axiom prioritizes people and planet with products made to last.
$250 SUGOI E-GIFT CARD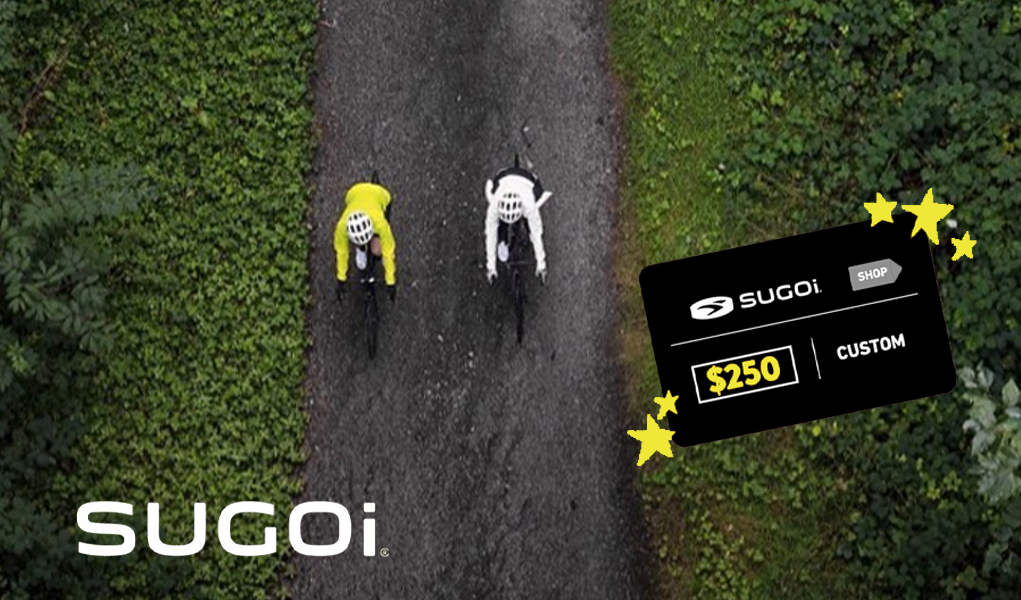 To win the $250 E-GIFT-CARD donated by SUGOI, tell us WHY you like participating in #GoByBikeBC events in a short video: Do you ride your bike for exercise, to and from work, to get groceries, to pick up the kids from school, to hit the trails, to ride with friends and family, or just for fun? In a short video (max 20 sec) show/tell us why you like participating in GoByBike events and what makes your wheels spin! Send your video to stories@gobybikebc.ca and/or tag us (@gobybikebc) on Facebook, Instagram, or Twitter.
*Please include your name and the community you are from in the video. By sending us your video, you give us permission to use the video on our website and social channels.
Since 1987, Sugoi has focused on quality, comfort, design, and durability to create purpose-built apparel for cycling, training and triathlon. A commitment to sourcing the best materials in the world has always been at core of our DNA, with the first Sugoi garments listing the ground-breaking fabrics of their time. Bred in Vancouver Sugoi's designs have always been shaped by our environment. The wildly diverse climate has forged a culture of relentless refinement to deliver apparel for every climate. Over the years, Sugoi has enjoyed a rich collaboration with some of the world's most esteemed cyclists and triathletes. The goal has been to test on elite athletes in extreme conditions to ensure quality and performance for all.
MEC PRIZE PACKS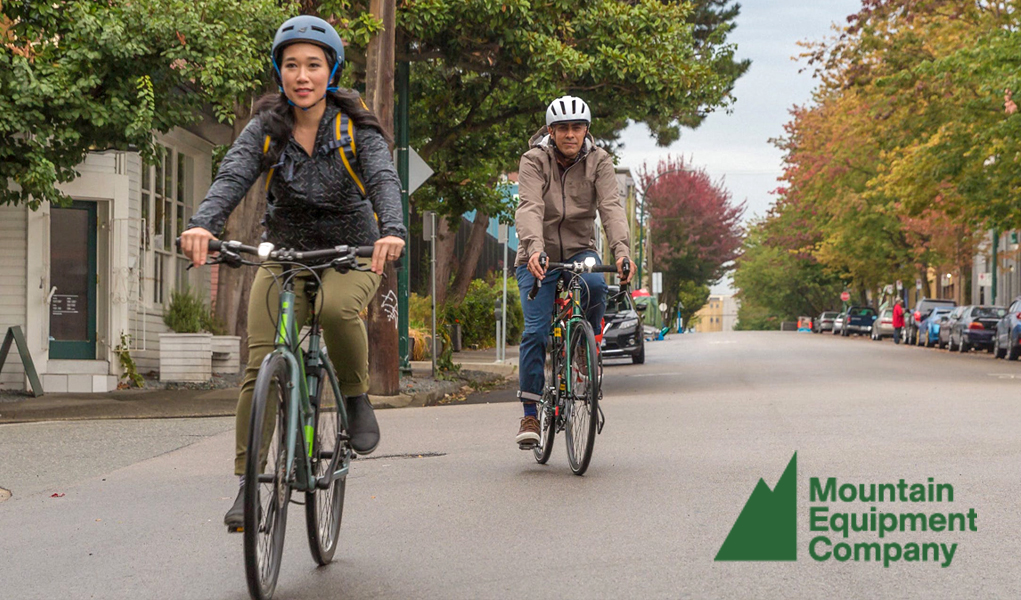 Registered participants logging at least one trip enter for a chance to win one of the following prizes donated by MEC – Mountain Equipment Company:
– a $150 MEC Gift Card or
– a MEC Skyway helmet or
– a MEC Sphere 500 Front Light + MEC Mica 45 Rear Light or
– a MEC Apex floor pump or,
– a MEC Purist 770 water bottle.
OBS: Registered TEAMS who save at least 2 kilograms of greenhouse gases during Spring GoByBike Week will receive a promo code for 30% off bike lights at MEC.
7MESH COMBO
Registered participants logging at least one trip enter for a chance to win one of the following combos from 7MESH:
– a Elevate Shirt (w/m) & Trailside Hat or
– a Sight Shirt (w/m) & Water Bottle.

OBS: First dibs for all STRAVA TAKEOVER participants.
ORTLIEB VARIO PS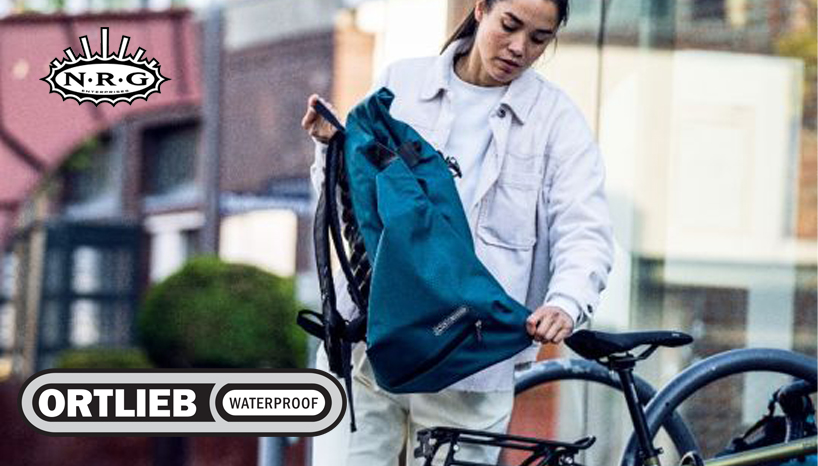 #SpringGoByBikeBC Social Media Contest Alert on FACEBOOK & INSTAGRAM. Make sure to read the rules carefully for a chance to win the ORTLIEB VARIO PS donated by NRG Enterprises / Lanctot.

Backpack or pannier? With the versatile and innovative Vario PS, that question is answered. Both. Ortlieb's Quick-Lock attachment systems on one side and a padded carrying system with chest strap and ergonomic shoulder straps on the other, The Vario PS transforms from backpack to pannier faster than ever before. It features the practical and proven roll closure, and your laptop can sit in a padded compartment to keep safe and organized. This hybrid bag is PVC-free and sustainably manufactured in Germany.
$100 E-GIFT CARD FOR ONEUP COMPONENTS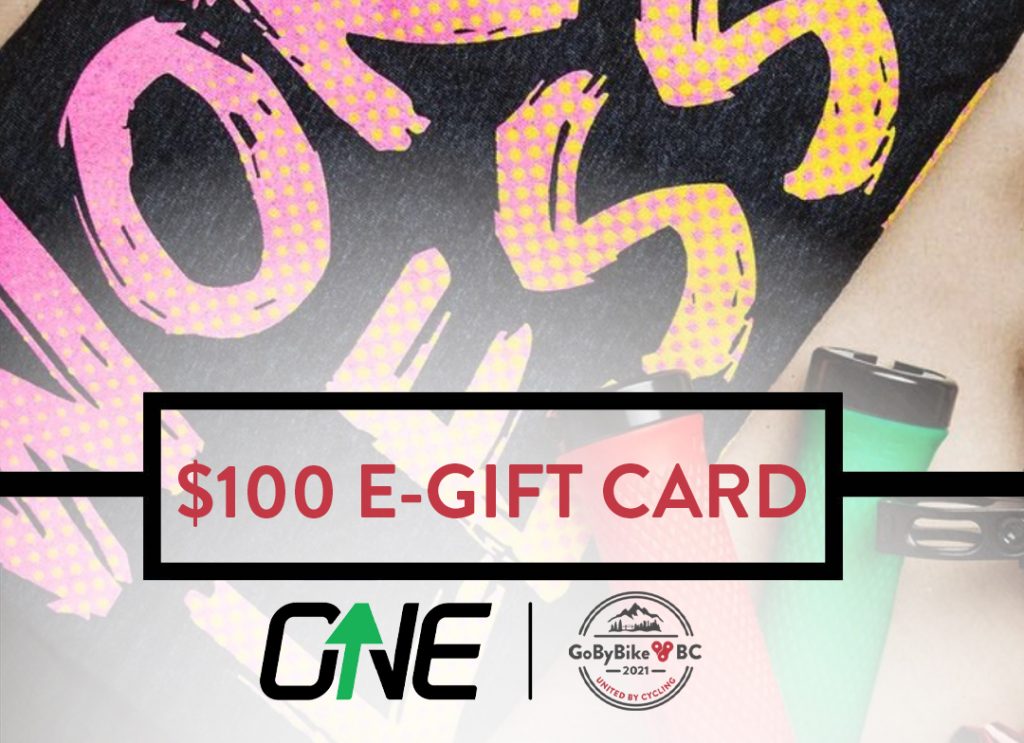 Registered participants logging at least one trip can win a $100 E-Gift Card for OneUpComponents.com donated by OneUp Components.

OneUp Components is a passionate team of riders dedicated to bringing genuine value to mountain bikers around the world. We design, engineer, ride and ship the products we want on our bikes from Squamish, BC, Canada.

OneUp started in 2013, when three friends and mountain bike engineers launched a unique product to solve a problem they had on their bikes. At the time, they wanted a wider gear ratio without having to replace their whole drivetrain. This led to OneUp's first product: the 42T Expander Sprocket. They quickly found out that riders everywhere wanted to improve their rides, for less, too. OneUp has been expanding its product line ever since.
2-NIGHT STAY IN PANORAMA, BC, & 2 BIKE PARK PASSES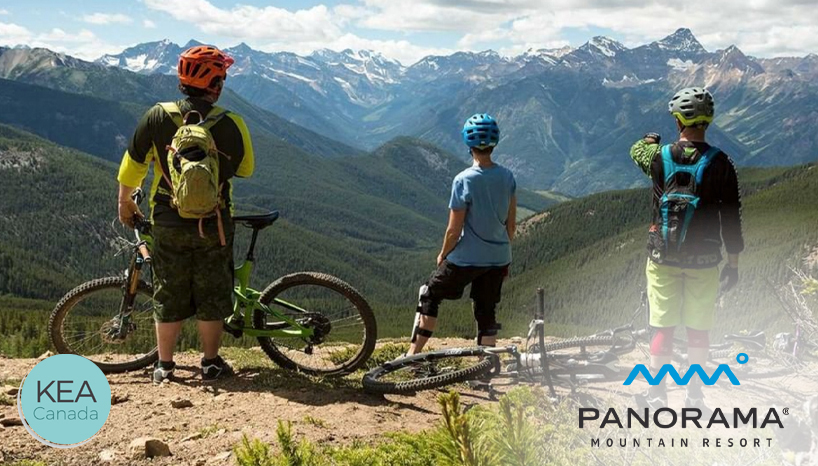 Registered participants logging at least one trip can win a 2-night stay at the Horsethief Getaway in Panorama, BC, donated by KEA Canada together with 2 day passes for the Panorama Mountain Resort bike park donated by Panorama Mountain Resort.
$25 E-GIFT CARD & 15% OFF OUTWAY APPAREL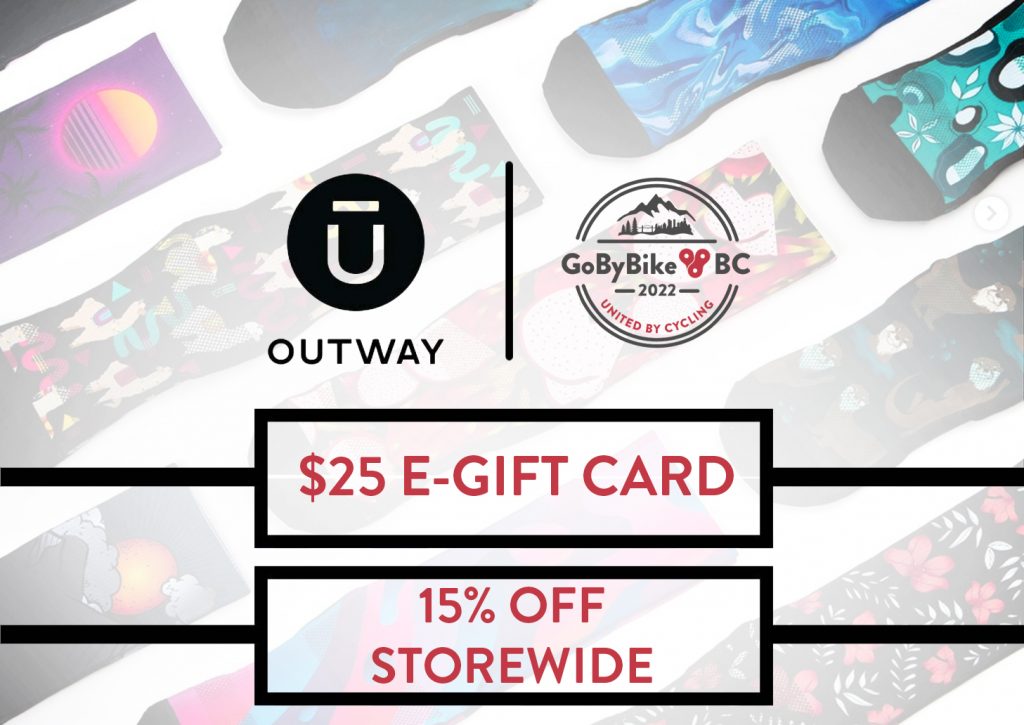 Registered participants receive 15% off store wide at OUTWAY.COM donated by Outway. Make sure to allow us to send you emails in your account settings so you don't miss the promo code sent out in one of our eNews.



Registered participants logging at least one trip can win a $25 E-Gift Card for OUTWAY.COM donated by Outway.
"LET'S GO BIKING" E-BOOKS: VANCOUVER, OKANAGAN, VANCOUVER ISLAND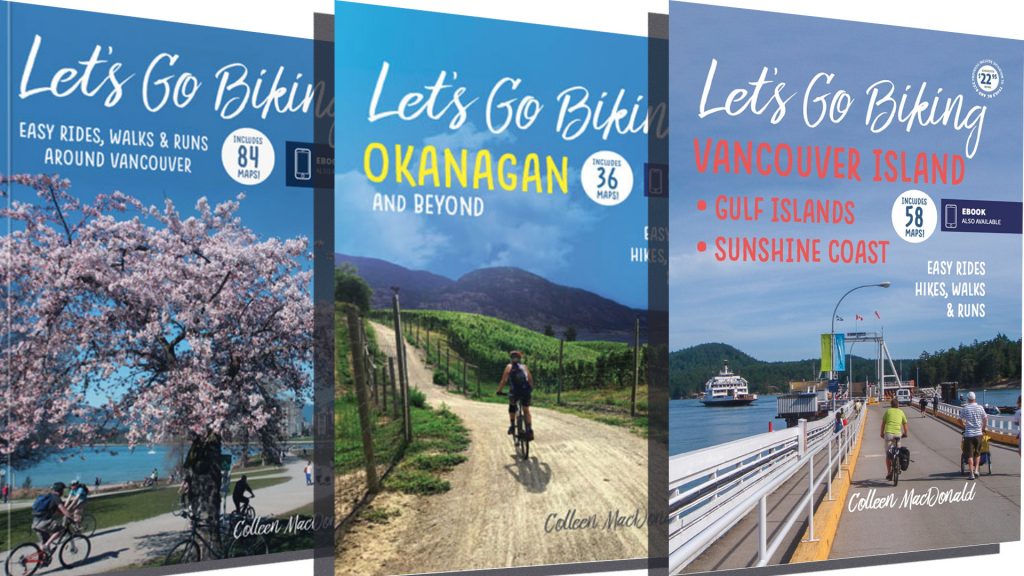 Registered participants logging at least one trip can win one of three LET'S GO BIKING e-books donated by Colleen MacDonald. To be entered into the draw and in addition to riding your bike during SpringGoByBike Week, please send an email to stories@gobybikebc.ca with a photo of your bike (or the view when riding your bike) and a short description of your favourite ride and why it's your favourite. #AnyRideCounts!
.. AND MORE. TELL YOUR FRIENDS, CHECK BACK FOR UPDATES AND FOLLOW US ON FACEBOOK OR INSTAGRAM.