Congratulations to Kristy Gabelhouse, of Nanaimo, winner of the Exodus Travels #FallGoByBikeWeeks Grand Prize: A Cycling Adventure for two in France 🇫🇷
Trois, deux, un, go! That's exactly what Kristy Gabelhouse will do in France, as she sets out on her cycling adventure as the Grand prize winner of GoByBike BC Society's Fall GoByBike Weeks draw, sponsored by Exodus Travels. Bonjours, baguettes, and bikes are all part of this dreamy trip that has become a reality for one of GoByBike BC's lucky supporters.
"I've participated in at least four GoByBike events and entered the grand prize contest every time. I am so thankful to have won the grand prize this year. I will be bringing my mom with me on the cycling adventure in France as she also loves biking, gardens, and wine!", says Kristy.
Kristy is not only an avid biking enthusiast, but her chosen profession reflects her great heart for all things pertaining to the health of our natural environment; Kristy works as an Environmental Impact Assessment Biologist for the Ministry of Environment and Climate Change Strategy.
As a sign of the times, and as many of us have transitioned to doing in recent times, Kristy has been working remotely for the past year. For her cycling to work is a great stress-less way to start and end the day. But even during these challenging times, Kristy has found a way to enjoy her passion for cycling, "I found a great route to ride on my lunch break that hits some of Nanaimo's multi-use trails (and hills). I also enjoy mountain biking and I'm a member of the Nanaimo Mountain Bike Club. Biking in the forest is definitely one of my favourite activities and I often have a huge grin on my face as I ride".
Kristy is thrilled to have won the Exodus Travels biking adventures to France. She has visited France in the past, but as the trip was short, she didn't get to indulge her passion for cycling during that trip. Since then, Kristy has participated in many local adventure bike events including the MOMAR adventure race in Cumberland. Although these were awesome experiences, Kristy says, a multi-day bike adventure has been on her bucket list for a while.
Un grand merci, a big thank you, to Exodus Travels for sponsoring, GoByBike BC Society Fall GoByBike Weeks, and donating the bike adventure trip for two in France. And once again, felicitations to, Kristy Gabelhouse for supporting GoByBike BC Society and being our Grand Prize Winner. We are truly blessed to have such amazing biking enthusiast support our local biking and trail community.
"A big congratulations to every one of you who participated in the event! From biking aficionados to first time riders and families, words cannot describe how thrilled we are to have seen so many people taking part in this extraordinary cause. Don't forget, you are always leaving the world a better place when you see it by two wheels," says Robin Brooks, Exodus Travels' Marketing and PR Director.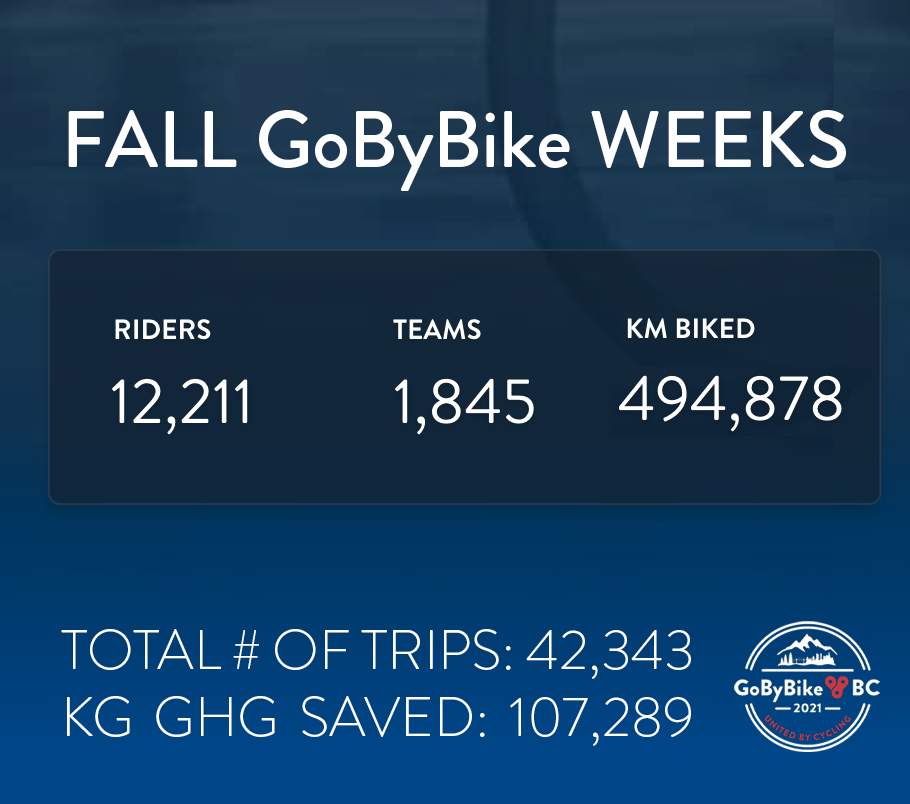 For a list of ALL winners (draw prizes and social media contests) click HERE. Thank you to all who participated. We look forward to seeing you around our local communities, enjoying and saving this beautiful world, two pedals at a time.